On Campus
DPAP Research Seminars Announced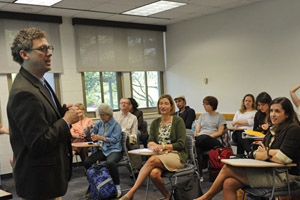 The Department of Public Administration and Policy at the School of Public Affairs is hosting a research seminar series this semester every Thursday from noon to 1 p.m. 
The seminars are free and open to the public. Refreshments will not be served and seating is limited. 
Those planning to bring large groups should contact Seth Gershenson (gershens@american.edu) before the talk.
January 30
Mary Graydon Center 200
"Is the U.S. Federal Government a 'Model Employer' of LGBTs? Comparing LGBT and Non-LGBT Employee Attitudes Toward Work"
David Pitts, Associate Professor

February 13
Mary Graydon Center 5
"Politicization and Agency Compliance with the Law"
David Lewis, William R. Kenan Jr. Professor of Political Science, Vanderbilt University

February 27 (90 minute seminar: Noon to 1:30)
Mary Graydon Center 245
"Examining the Impact of State Parental Work Policies on Parental Involvement in Children's Education"
Katie Vinopal, PhD student

"Gaps in High School Students' Non-School Study Time"
Steve Holt, PhD student

"The Economics of Summer Learning Loss"
Mike Hayes, PhD student

March 6
Mary Graydon Center 245
"Forecasting Elections: Voter Intentions Versus Expectations"
Justin Wolfers, professor of public policy and economics, University of Michigan; senior fellow, Brookings Institution

March 20
Mary Graydon Center 245
"Student-Based Budgeting: Evidence from Texas"
Christopher Birdsall, PhD student

March 27
Mary Graydon Center 245
"Intergovernmental (Dis)incentives, Free-Riding, Teacher Salaries and Teacher Pensions"
Maria Fitzpatrick, assistant professor, Department of Policy Analysis and Management, Cornell University

April 10
Ward Circle Building 301
"Telework and the Federal Government: Performance Expectations and Considerations"
Sarah Towne, PhD student

April 17
Mary Graydon Center 247
"Is Kindergarten the New First Grade? The Changing Nature of Kindergarten in the Age of Accountability"
Daphna Bassok, assistant professor of education policy, University of Virginia