On Campus
Long-time SPA Professor to Retire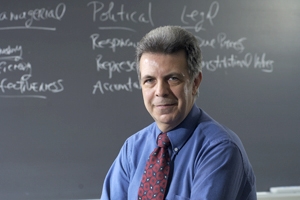 Bob Durant, a fixture on the faculty for 11 years and one of the most active researchers in his field, is retiring on December 31 after an accomplished 30-year career.
"I have mixed emotions because I regret that we will lose a well-respected scholar and dedicated colleague who embraced the values and mission of the School of Public Affairs," said Dean Barbara Romzek. "But I am also glad for Bob because he has earned the time to enjoy himself unfettered by the demands of his profession and the institution in which he has served so faithfully."
Durant joined the School of Public Affairs faculty in 2003 as a full professor and quickly established himself as an active scholar, engaged teacher and thoughtful leader. He has been a very productive writer and researcher, having published nine books, eight chapters in edited volumes, and 120 articles in leading academic presses and journals in public administration and political science. In addition, he has served on the editorial boards of 10 scholarly journals, and is an elected fellow in the National Academy of Public Administration.
He is widely known and respected for the quality and impact of his work. He has written extensively on the presidency, executive agencies and organizational behavior, and is a recognized leader in scholarship on environmental policy as influenced by bureaucratic politics.
In 2012, he was honored by the American Society for Public Administration with its Dwight Waldo Award for "distinguished contributions to research over an extended career." The following year, he was asked to deliver the American Political Science Association's prestigious Gaus Lecture, an invitation that was accompanied by an award given for "exemplary scholarship in the joint traditions of political science and public administration."
His scholarship has been universally acknowledged with seven book awards, two best article awards, and the prestigious Charles H. Levine Memorial Award for excellence in research, teaching and service to the wider community. He is well-regarded by his colleagues in the Department of Public Administration & Policy, having served as chair of the department, and is a favorite among his students. He won seven teaching awards, including the 2007 Outstanding Teaching Award in the School of Public Affairs and the Leslie A. Whittington Excellence in Teaching Award from the National Association of Schools of Public Affairs and Administration.