Environment
Economic Sector and Policy Experts Discuss Climate Change Efforts and Challenges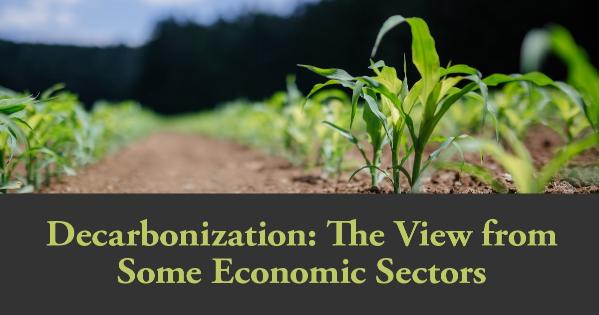 Meeting "zero emissions" greenhouse gas reduction goals will require all sectors, including agriculture, shipping, and transportation, to make massive, systemic changes. Speaking March 24 at a webinar sponsored by the SPA Center for Environmental Policy (CEP) and moderated by SPA Professor Todd Eisenstadt, representatives from industry and academia said avoiding severe climate change will take a continuous and escalating effort over the next three decades.
The analysts felt that that reaching zero net emissions growth by 2050, the point at which experts agree that the effects of climate change would become irreversible, is going to be a Herculean challenge. However, they reported progress in reducing fossil fuel dependence, producing synthetic nitrogen, finding new forms of fuel for marine transport, and capturing and storing emissions.  
Presenting pioneering research and applied work, the speakers discussed the importance of investing in innovative solutions, as well as the need to be flexible as new opportunities arise.
Eisenstadt noted that according to the American Meteorological Association, industry accounts for about 29% of emissions, followed by agriculture, forestry and land use (20%); buildings (18%); transportation (15%); other energy and power (15%); and wastewater (3%).
"This is a big puzzle as we look at the sectoral challenges and think about sectors in relation to each other economy-wide," said Simon Nicholson, associate professor in the AU School of International Service and founder of the AU Center for the Environment, Community, and Equity. "Work has to start now on carbon removal options. It's going to take a long time to develop the infrastructure and the sort of understanding needed if carbon removal is going to work at any scale…This will be just a small slice of the full set of things that needs to be done to avoid climate risk."
Henri Waisman, a senior researcher at the Institute for Sustainable Development and International Relations, spoke about the ambitious Deep Decarbonization Pathways Initiative, a pathbreaking effort to trace individual nation paths to decarbonization, which he leads. He said reaching global carbon neutrality is feasible, but it will involve drastic transformation. Strategies will vary by country, depending on national circumstances, technical potential, and social preferences.
"There is not one single route, even in a given country, to achieve the decarbonization. It's very important to explore them all to ensure that we can provide a robust vision in a context of deep uncertainty," said Waisman, noting the important role of transparent and detailed reporting to facilitate discussion on best practices.
Broadcasting from Ecuador, geologist Mark Thurber, manager for environmental assessment firm Walsh Group, discussed the transition from fossil fuel reliance to renewable energy – a particular challenge in a country where one-third of the government budget is dependent on oil exports. While revenues have fueled poverty reduction, oil extraction has also caused environmental damage and displacement of indigenous people in Ecuador. The country's path toward decarbonization includes a push to diversify the economy, invest in sustainable energy projects, and phase out expensive fuel subsidies.
Keira Havens, sustainability manager for Pivot Bio, talked about the importance of devising sustainable products and readily adoptable processes for farmers to reduce the carbon footprint of agriculture. Progress toward decarbonization in the transportation sector has been slow, said marine shipping researcher Andrew Losos, senior sustainable transport specialist with the World Bank. With expected sector growth, an investment of at least $1 trillion is needed to decarbonize between 2030 and 2050.
"Even in the face of the climate emergency we now face as a species on the planet, we are all still playing safe," Losos said. "We need to think big. We need to be bold. Science is telling us that there's little time left to make a correction. How are we going to do that? By taking decisive action in each country and each sector."
The panelists said it was critical to make energy-related decisions based on long-term impact, and to enact structural changes, collaboration, and progressive policies. Since climate change is largely an invisible problem, Losos encouraged consumers to hold governments accountable and push for domestic regulation.
Added Nicholson: "It's a trap to think of ourselves as individual consumers. When it comes to climate action, we need to think of ourselves as connected citizens. That means voting, getting involved, and making sure there's transparency."
The next webinar in the Pathways to a Decarbonized Economy and a More Livable Planet
Webinar Series, to be held on April 8 from 5:30-7:00 PM, will focus on a view from nation-state analysts.