On Campus
Elizabeth Warren Pumps Up AU Crowd with Calls to Make Government Work for the Middle Class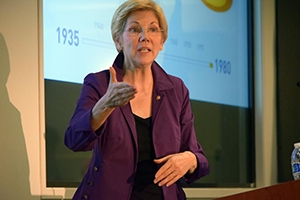 On September 21, American University School of Public Affairs welcomed U.S. Senator Elizabeth Warren (D-MA) for a talk on the history of America's economy. She did not hold back during her one-hour presentation, saying to students that it was time to make America change its priorities.
Warren, who was a professor for many years prior to becoming senator, gave students an economic history lesson to illustrate how and why families have struggled to make ends meet over the last century. Using charts and graphs, she explained how productivity, innovation, and corporate profits were up, yet workers were not sharing in new wealth. She blamed changes in tax law, deregulation of banks, and failed "trickle-down" policies of the 1980s for the growing income inequality.
She said all this on the heels of a heated Congressional hearing with Wells Fargo executives the day before about aggressive business practices that she called a "scam." Warren said that with wealthy corporations paying less in taxes, the government has invested less in education, research, innovation, and infrastructure. Passing on growing expenses for college and healthcare to families, many in the middle class were "squeezed hard."
"The American economy may look great from outside, but for most of the families living in it, this economy looks very different," said Warren. Warren also challenged students in the room to get involved in movements for change and reach out to their representatives.
After delivering the sobering message about lawmakers being in the pockets of big business and Washington in gridlock, Warren did offer the audience a path for change. "If the government has been taken over by the rich and the powerful, then rest of us can take it back," said Warren.
She called for enforcement of regulations that create a level playing field for big and small businesses, and more money for public education, clean energy and scientific research. To pay for new investments, she suggested closing tax loopholes that benefit corporations, which she says most Americans support.
"She sets a great example for other women who are trying to pave the way," said Kirstyn Rowen, 20, SPA/BA'18. "I know a lot of students here are politically active and admire Senator Warren for all the work she has done. It did inspire me to be more involved and spread the message of civic engagement."
Barbara Romzek, dean of the School of Public Affairs, said she thinks Warren's remarks did wonders for energizing students to take a more active role in government. "For the School of Public Affairs, this is exactly the message we try to get to our students," said Romzek. "She is a particularly dynamic speaker. She has a track record that gives her credibility."
Hundreds of students, some of them who waited since 1 p.m. to see her, lined up afterwards to take selfies with the senator and praised her message to shake up the system. She took photos with every single student — hundreds — until there were no more in the room.
Tejesh Pradhan, SPA/PhD'18 left class an hour early to hear Warren, who he refers to as an "iconic figure" in politics. Pradhan said he considered bringing a poster that read "Warren 2020" and hopes she will run. "She is the kind of change America needs," said Pradhan. He hopes to return to his native Nepal someday to help with anti-poverty programs to make a difference.
"We can make a difference," said Warren. "They [lobbyists] might have the money and power, but we have our voices and our votes. And there is a whole lot more of us than there is of them."
For more information about the School of Public Affairs, visit: www.american.edu/spa