On Campus
European Union Court of Justice Officials Visit SPA Class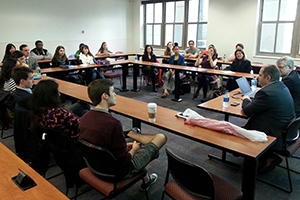 Two officials from the Court of Justice of the European Union, Europe's high court, spoke to a group of School of Public Affairs students on Friday, April 3.
The two officials, known as referendaires, vistited campus on March 30 as part of a daylong conference hosted by AU's School of Public Affairs, School of International Service, Washington College of Law, the Italian-American Law Student Association and the European Law Association. The conference invited renowned speakers to address issues related to the use of foreign law in constitutional judgments in the Court of Justice of the E.U. The conference was co-organized by Prof. Fernanda Nicola (WCL) and SPA Professor Bill Davies. The two officials, William Valasidas, Director of Communications at the Court, and Costas Popotas, Legal Secretary in the Chambers of the Court's President returned to campus on the invitation of Prof. Davies.
The conference was inspired by a 2005 event at AU's Washington College of Law, in which Supreme Court Justices Antonin Scalia and Stephen Breyer sparked an international debate on the use of foreign law in domestic legal decisions. Last week's event sought to address how to apply international law in domestic courts.
The referendaire position in Europe is almost exactly like the position of clerk in a U.S. court, with the significant difference between the Supreme Courts of the U.S. and E.U. being that the Europeans are in a career position, not a 1-2 year stay as in the U.S. For example, one of the speakers, Costas Popotas, is in his 27th year at the Court.
The referendaire title comes from the French judicial system and translates most literally as "judicial assistant," but their function is to draft opinions and coordinate between judicial offices in much the same way as clerk in the US system.
Professor Davies has researched and written about E.U. courts extensively in his work. He received both PhD and undergraduate degree in European Studies from Kings College London, and has travelled the continent in his research on Europe's constitutional system.