On Campus
Nationally Renowned Expert on Poverty Visits AU's School of Public Affairs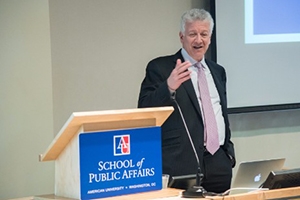 The School of Public Affairs' Washington Institute for Public Affairs Research welcomed Sheldon Danziger, President of the Russell Sage Foundation (RSF), on March 29. The event highlighted the historic trends of the U.S. policies to combat poverty and limit inequality. Danziger's presentation illustrated how public policies have changed across presidential administrations—and how they have remained the same.
Danziger, a nationally renowned expert on poverty and inequality, talked about how he recently collaborated with a group of experts with divergent views, to write a report by the Brookings Institution and the American Enterprise Institute that made recommendations to help slow the rate of poverty in America. One of the recommendations is to increase work opportunities and increase wages, in order to justify attaching job requirements to the food stamp program.
"The conservatives in our group that pulled this report together really believed that those on food stamps are turning down jobs," said Danziger. "The progressives, including myself, believe that jobs are not available and there are lots of people who would take jobs if they are available and if wages were higher."
Among many other interesting findings, the report defends common core in education, and calls for increasing the earned-income tax credit for adults without children. It also proposed more federal investment in early childhood education and community colleges. To pay for it all, the report recommended culling corporate boondoggles and individual tax expenditures that overwhelmingly benefit the wealthy, like farm subsidies and the mortgage interest tax deduction. And they urged reducing Social Security benefits for affluent Americans.
"There were a lot of things in the report that not everyone liked," said Danziger. "But everybody agreed that even though there were things in it we didn't like, the package together would be better than the status quo."
The collection of proposals in the report — from promoting strong and stable families to improving the quantity and quality of work — actually adds up to a coherent approach to improving an anti-poverty strategy that has fallen far short of its goals.
Danziger is a member of the American Academy of Arts and Sciences, and prior to his appointment as President at RSF, he was Henry J. Meyer Distinguished University Professor of Public Policy at the Gerald R. Ford School of Public Policy, and Director of the National Poverty Center at the University of Michigan. He is the author of countless articles and 16 books on demographic and economic change, public policy and poverty. His most recent book, Legacies of the War on Poverty, describes when and how well-designed government programs can reduce poverty, racial discrimination, and material hardships.
In case you missed it, you can watch the entire event online. Visit our website to learn more about SPA and the Washington Institute for Public Affairs Research.