Government & Politics
Experts Discuss Harnessing Potential of Autonomous Vehicles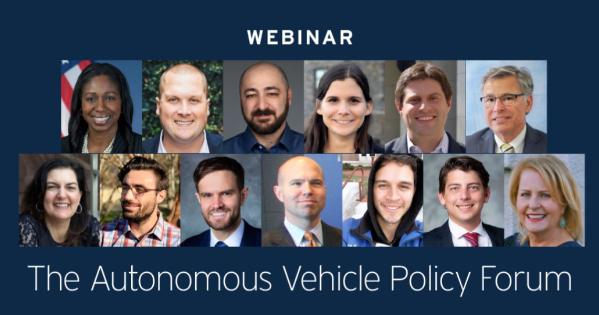 SPA Executive in Residence Selika Talbott is bullish about the future of self-driving cars, trucks, and robotic devices.
"I see autonomous vehicles as the great equalizer," said Talbott, of the phenomenon's potential to improve access to food, health care, and jobs. "It is literally the new frontier. We have the ability to carve out new transportation systems that are equal no matter where you live."
On November 17-18, Talbott moderated an online symposium on autonomous vehicles, sponsored by the AU School of Public Affairs (SPA), featuring more than a dozen speakers from the growing industry. The event was designed to educate an audience of big business, community organizers, regulators, and lawmakers about advances in the sector and policy implications on the horizon.
"The technology works. It's not pie-in-the-sky or so far down the road that [regulators] don't need to step up to the plate to create proper frameworks," said Talbott. She has been involved in the AV space for a decade, as an attorney representing vehicle manufacturers, a political appointee running a state transportation agency, and an advisor to the administrator of the federal trucking regulation agency.
The symposium's four panels included executives from autonomous freight vehicle companies, an autonomous ride-hailing service, creators of delivery bots, and local policymakers. Safety was central to the discussions; many brought up the need to promote the technology's environmental benefits and the efficiency of its delivery services.
The $800 billion trucking industry, facing a shortage of drivers and steady demand, underscores the need for innovation. Nearly 70% of all U.S. freight is moved by trucks, Talbott noted. Representatives from four companies shared strategies for commercial deliveries using driver-less trucks (either as part of a convoy led by a human driver, or with a safety driver in the cab), and are fine-tuning these products, primarily on highways. The panel emphasized safety, and the need to educate the public about the advantages of this new technology.
Because AV vehicles will be able to travel during off-hours, they should reduce congestion and improve safety, said Daniel Goff, head of policy at Kodiak Robotics. "Nearly 45,000 Americans die in accidents every year with long-haul trucks. Anything we can do to reduce those risks will be transformative," he said. "Self-driving trucks are going to stay in the right lane; they will stay at the speed limit. They will not text and drive, or drive drowsy, or drive drunk."
This issue has bipartisan appeal, encouraging business innovation while ensuring equity of services to vulnerable populations, said Talbott. While states are passing supportive legislation, the policies lack coherency, said Cetin Mericli, chief executive officer and co-founder of Pittsburgh-based Locomation. "We could use more federal leadership to unify existing efforts," he said.
Experts discussing delivery with robotic devices emphasized their commitment to protecting customer privacy, and anticipated advancements that will drive demand.
"It's not about when AVs will show up, it's where––and it's also why," said Greg Rogers, public policy manager at Nuro, a Washington, D.C.-based robotics company. "The reason I got into the AV sector is the social good we can achieve. We can use robotics to [improve] access to groceries for 20 million Americans who live in food deserts. We are in the middle of a climate catastrophe. We have to reduce dependence on vehicles and make a transition to electric vehicles and find other options."
Michelle Peacock, global head of public policy at Waymo, addressed the value of their driver-less ride-hailing service––especially during the global pandemic with its limited transportation options. While the service can operate without any special infrastructure, Peacock and other speakers welcomed the prospect of legislation to improve the quality of roads and bridges.
Added Talbott: "This is not purely a technology conversation. This is a public policy and legal conversation…[AV] has so much potential for problem solving . . . in our community and society today."