Safety & Security
How National Security Agencies are Recruiting Employees in Challenging Times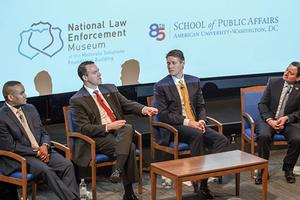 If you ask any national security or federal law enforcement executive to list the most challenging internal issue facing their agencies, most will mention recruiting personnel. While facing increasing pressure and demands, recruiting experts is more difficult than ever.
 
During an event hosted at the National Law Enforcement Museum in Washington, D.C. by AU School of Public Affairs Key Executive Program and Guidehouse last winter, experts from the Federal Bureau of Investigation (FBI), Customs and Border Protection (CBP), Secret Service (USSS), Homeland Security Investigations (HSI), and other law enforcement agencies gathered to talk about recruiting challenges and opportunities.
You can listen to some of the conversation in "Mission Is Possible," a recently launched podcast by SPA and Guidehouse. Each episode is about topics highlighting the work that is being done across national security and federal law enforcement agencies.
Participants discussed the important mission that Federal Law Enforcement agencies are tasked with. Dave Schlendorf, Assistant Director, Human Resources Division, FBI shares that law enforcement needs more than just the "typical applicant".
"We enforce more than 400 laws, so there's a lot of different opportunities for agriculture, animal science, accounting, attorneys," said Schlendorf. "There's just a huge breath of backgrounds that would really help us with the work we do, especially overseas, too, where we work with international partners."  
Ashley Mattison, Director in Guidehouse's National Security Sector, summed up the challenges that agencies are faced with. "Some of the challenges that agencies represented are experiencing have a lot to do with a strong economy and historically low unemployment. Therefore, the labor market is very tight. Additionally, changing societal views on law enforcement careers, particularly amongst millennials, means that there's a shrinking talent pool of those that are looking for law enforcement jobs. Arduous background requirements and physical requirements also narrows the pool of candidates."
"The challenges being-- particularly for law enforcement roles, it's a long hiring process," said Rob Smith, Director, Talent Management Directorate, CBP. "There are numerous steps you have to get through. Some folks, again, find themselves wearied by the timeline it takes to get onboard. We believe that applicant care is a solution to that challenge. And we're working hard to get to where we can provide that applicant care throughout."
In response, agencies have tried to change their hiring process to get more people through the rigorous application pipeline that some of their positions require.
"We have to attract people that maybe didn't grow up thinking about joining law enforcement," said Schlendorf. "We're not just looking for folks that are lawyers or accountants or law enforcement. We're also looking for doctors and nurses and psychologists and school teachers and all sorts of things. But because they didn't grow up thinking about the FBI, we got to go make the pitch to them in a different way than we've done traditionally. So that's what we're doing."  
For more information, visit the Guidehouse website.