On Campus
Female Ambassadors Share Stories on International Women's Day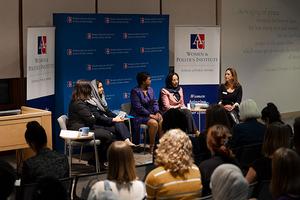 On March 4, the SPA Women & Politics Institute hosted female ambassadors to the U.S. from Afghanistan, Iceland, Oman, and Rwanda, in honor of International Women's Day. The panel, moderated by Betsy Fischer Martin, executive director of WPI, discussed the advances and struggles of women around the world in their quest for equal representation.
 "[Each of] ... these four incredible women ... brings her own personal story to women and politics and public service," said Fischer Martin, inviting the panelists to share their experiences and describe the changing status of women in their cultures.
Hunaina Sultan Al Mughairy, appointed the first Arab woman ambassador to the United States 15 years ago, helped negotiate a free-trade agreement between Oman and the United States. Although her Middle Eastern country is conservative, she credits the monarchy for opening doors for women in professional life.
"We have a progressive sultan who from his first speech said women and girls should have same rights as men," said Al Mughiary, an economist. However, women represent a small percentage of the country's elected officials.
In contrast, women form the majority of Rwanda's parliament, explained Ambassador Mathilde Mukantabana. In the wake of the country's 1994 genocide, women were crucial to redeveloping institutions and infrastructure.
 
"We take very seriously that women's rights are human rights. That was our philosophy from the beginning," continued Mukantaban, who fled the violence of her home country as a teenager, got her college degree, and became a professor in California. She later returned and co-founded Friends of Rwanda Association, a relief organization that helped rebuild her home country.
Ambassador Roya Rahmani, who grew up in war-torn Afghanistan, remembers the limited nature of opportunities for girls, and how she questioned the binary gender roles of her society. She denounced the conservative economic dependency of women by studying as an engineer, earning a master's degree in public administration from Columbia University, and accepting the post of ambassador to the U.S. in 2018.
Ambassador Bergdís Ellertsdóttir of Iceland, a political scientist by training, shared the story of her country's rise as one of the most progressive countries for women. In 1975, a massive women's walkout about pay equity forced policy changes that propelled Iceland to the top of the world's global gender gap index.  
"It doesn't happen by itself. There were a lot of courageous women that fought for this," said Ellertsdóttir of womens' political equality. "Now it's unthinkable for any political party to have a list for an election without women in the top seats. There is a social pressure for them to do so."
Abigail Lore, SPA, BA '17/MPA '18, was impressed by the comments from the panelists, who didn't necessarily find inspiration on gender equality in the American system. "I think we need to look outside the United States at non-traditional partners to see what they are doing and what's working," she said.
Monica Gilsanz, SPA/ BA '17, said she came to event because she is passionate about gender equality and equity issues and wanted to learn more.
"I wanted to come back to my roots to see what these phenomenal leaders had to say," she said. "It was interesting to hear about the political progress versus the conservative culture and that tension. Shift in culture is much harder. It's not a quick fix, but with leaders like this in place, that's when you are going to see change."