Research
Free Speech: How Far Can We Go?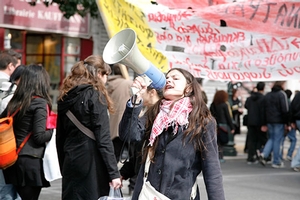 Should university officials invite speakers with extremist views to campus? What kind of protest should be allowed? Should students who threaten speakers face consequences?
Greg Weiner, associate professor of political science at Assumption College in Worchester, Mass., gave his take on these and other free speech questions at a recent AU School of Public Affairs guest lecture. The lecture was part of SPA's Political Theory Institute fall series.
The political theorist and author discussed what he called the "important and imperiled" topic of free speech and fielded questions from several students and faculty members in attendance. Weiner examined free speech not as a conservative or liberal issue but through the lens of decency versus indecency. The framers of the Constitution were not free speech absolutists, he said, but because of shared norms of decency there was an assumption that speech would not be pushed to the extreme.
"Speech serves the purpose of securing the larger good of self-government," said Weiner, adding that the First Amendment allows the right to speak without injury and is a privilege in a free government.
Weiner argued that campuses should "err on the side of speech" but also permit restriction of attempts to disrupt it. He discussed recent controversies over free speech at Middlebury College in Vermont, the University of California at Berkeley, and on other campuses around the United States.
"Especially, but not exclusively, on campus we provide the least protection for speech that needs the most protection and the most for the speech that deserves it the least," said Weiner. "We have too little of the right kinds of tolerance, too much of the wrong."
In the context of a university campus, free speech most protects language in pursuit of "the truth, the just and the beautiful" and least protects speech that is incompatible with common decency, said Weiner. With that view, Weiner says university officials and faculty are not obligated to invite controversial speakers to campus who do not align with their educational mission. But when they do, the speaker should be allowed to be heard.
Weiner discussed an incident this year at Middlebury College where students shut down a speech by libertarian scholar Charles Murray. A faculty member was injured, and the students involved were not expelled.
"Shouting Murray down was considered a bold act of free expression, yet meaningful punishment against the students who did it would have been received as an outrage against free speech. That, to me, is backward," said Weiner. "The problem with the Middlebury protest was not merely that they were violent but also that they were indecent and overly hostile to the telos of speech in the political community that constitutes a college campus."
University officials and faculty are justified in rejecting speakers who are not serious scholars, said Weiner. Though he said that part of a university's purpose is to provide diverse viewpoints and even make students uncomfortable. Weiner added that decisions about expression on campus should be thoughtful.
"Judgment should be informed by experience, rather than inflamed by emotion," said Weiner. While there is no reason for a college to tolerate indecent speech, Weiner said a university should be broadly tolerant. "On campus, the quantity of speech and pursuit of truth, however provocative, should be wide and deep."