Environment
Environmental Protection Experts Analyze Challenges and Opportunities for EPA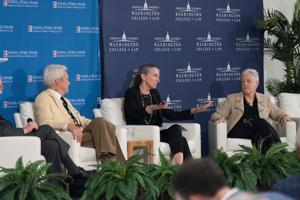 Participants in two-day conference at American University on the future of the U.S. Environmental Protection Agency underscored the need for the agency to leverage scientific expertise and share its story widely to gain support and funding needed to do its work.
"Most people in the U.S don't know what the EPA does," said Gina McCarthy, former EPA administrator who spoke on a panel with fellow former EPA administrators, William Reilly and Carol Browner.
Nearly 300 people including current and former EPA employees, representatives from other government agencies, associations, nonprofit organizations, academia, and the private sector attended the event co-hosted by the AU School of Public Affairs' Center for Environmental Policy and the Washington College of Law Environmental and Energy Law Program.
"We don't do a very good job – or aren't given the resources – to talk about the fundamental things we do and why they are important," said McCarthy. "We need to try to figure out how to communicate better."
Despite the rollback of regulations and proposed cuts to the EPA in recent years, leaders at the conference pointed to new technology to aid enforcement, ongoing corporate investment in sustainability, and the enthusiasm of young people as encouraging signs on the horizon.  
"The climate threat is really daunting, and so people want to be optimistic," said Amanda Leiter, director of the Program on Environmental and Energy Law at AU. "But it's an enormous challenge, and one that if we don't address soon, the window is closing to do anything to avert the worst impact."
To help make the case, McCarthy and others advocated for framing environmental protection as a health issue. Browner said the agency needs to address critics who see the EPA as an intrusive regulator and demonstrate how a clean environment serves the public interest. Early clean water legislation had clear goals of making water "fishable and swimmable," which Browner said was grounded in science but also had a moral and ethical component.
In this keynote address, Denis Hayes, founder of the Earth Day Network and president of the Bullitt Foundation, said the conference could have a real-world impact as momentum builds for celebration of the 50th anniversary of Earth Day and the establishment of the EPA next year.
"Today, just as in 1969, we have a somewhat unrecognized super-saturated public consciousness," said Hayes. "This time the core of it is climate change. If we successfully capitalize on it, then 2020 will see another surge for environmental protection."
Several speakers talked about the need for the EPA to rebuild its infrastructure and be innovative.
"You need a regulatory system as a baseline, but you also need creative ways to get results in a more collaborative basis -- to go beyond straight compliance," said Dan. Fiorino, director of SPA's Center for Environmental Policy and distinguished executive-in-residence.
Regional initiatives were highlighted, such collaborative efforts to restore the Chesapeake Bay. To get support for environmental bay protection, experts emphasized explaining the impact of preserving rivers and streams in the watershed. "It's important to deliver a message in a way that resonates with your local audience," Leiter said.
The event was designed to identify areas where the EPA should go as an institution and stimulate other forums outside of Washington to give leaders practical suggestions for moving forward.
"We learned so much from the conference participants," said John Reeder, SPA executive-in-residence visiting from the EPA. "We were overwhelmed by the positive response and really felt optimistic about EPA's mission and the agency's future."