Research
Building a Network of Social Scientists Working on Global Health Policy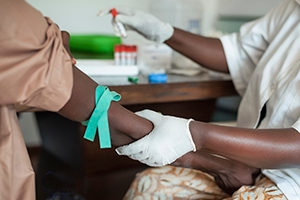 Researchers interested in global health policy from universities in the DC and Baltimore areas came together for the first time on the American University campus October 21 for a symposium and to explore the possibility of building a network of scholars.
American University School of Public Affairs Professor Jeremy Shiffman brought together approximately 20 academics from American, Johns Hopkins, Georgetown and other universities, who presented papers and discussed shared interests in the areas of global health, health policy, and health systems.
"We realized that there were many social scientists working at nearby universities doing excellent work on global health, but many haven't met one another," said Shiffman.
Social scientists are not always at the forefront in this field, which is dominated by the biomedical sciences. This forum provided a venue to connect like-minded scholars, including anthropologists, geographers, historians, sociologists, political scientists and public health specialists, whose research focuses on issues of power, politics and governance related to global health. The group included people at various stages of their careers, from doctoral students to full professors, with the hope it would provide an opportunity for building ties among experienced and younger researchers, said Shiffman.
As a Ph.D. student at Johns Hopkins University, Veena Sriram says she welcomed the chance to meet others, exchange ideas, and get feedback on her work. "We tend to work on our own research and it's really important to understand what other people are doing," said Sriram, who presented a paper about emergency medical specialization in India.
Sara Bennett, a professor at Johns Hopkins who works on health systems in developing countries, said she liked seeing young researchers, who are beginning to blossom in their careers, attend the event. "As far as I know, this is the first gathering of people with this set of (research) interests in the U.S. with a particular focus on global health (policy) to share ideas," she said.
Emily Mendenhall said she is the only person working in global health in the School of Foreign Service at Georgetown University so it was valuable to meet with colleagues in the D.C. community. She said the meaningful conversation pushed her and she looks forward to the possibility of future collaboration with those attending the event.
At the end of the symposium, participants expressed interest in continuing the dialogue. Tentative plans were made to meet again in six months at AU to further solidify connections among the emerging policy network, advance their research agendas, and promote social scientific approaches to global health policy analysis.
"This is a cohesive group of researchers," said Shiffman. "It was one of the most exciting research gatherings I've had in my six years at AU. I felt really energized with the very engaging and rich discussion."
If you work on global health policy and would like to learn more about future forums, please sign up here.