Government & Politics
George Hawkins Aims to Inspire Policy Passion at the Local Level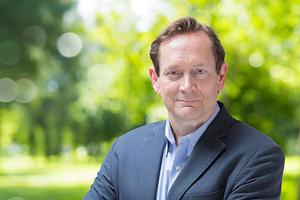 Whether with water, roads, policing, or affordable housing, new SPA Professor of Practice, George Hawkins, says students interested in public policy can make a difference helping cities deliver services directly to people who need them.
"In my view, having been at various levels of government over the years, local government is where the action is these days," says Hawkins.
Hawkins, a Harvard Law School graduate, has worked in senior positions with the Environmental Protection Agency (EPA) and the Occupational Safety and Health Administration (OSHA). He served former Vice President Al Gore on the National Performance Review, playing an integral role in strengthening environmental protection programs at EPA and OSHA.
Hawkins moved to the municipal level of government and became the head of the District of Columbia Department of the Environment in 2007, where he enjoyed seeing and measuring the outcome of his work. He was general manager of the District of Columbia Water and Sewer Authority from 2009 to 2017.
Prior and during his work in government, altogether Hawkins spent 18 years teaching environmental law and policy at Princeton University. At SPA, he is developing a new course for this spring that will focus on migration to cities and infrastructure policies. Students will explore case studies drawn from recent headlines and will act out the roles of key players to enhance their critical thinking and public speaking skills. Hawkins hopes it will encourage a new generation of young leaders to bring their creativity to local government. He'd also like to create a professional training program for municipal officials to enhance their exposure to the latest technology to solve local problems.
"Coming to AU allows me to force multiply the lessons I've learned in 25 years of public service at both ends of the spectrum — to share it with folks coming in with enthusiasm and those grizzled veterans trying to do their best," says Hawkins, adding how he loves teaching and learning from students.
Improving cities is a matter of leadership, and Hawkins says that's why he wanted the next step in his career to focus on education.
"All over the United States, cities are coming back," says Hawkins. "As that happens, we need to make cities greener, affordable, and inclusive … It's where the jobs are."
The need to understand how to deliver water to growing cities and manage services in times of drought is growing, says Hawkins, who is writing a book about the story of the transformation of District of Columbia Water into a customer-oriented enterprise. He also runs a company, Moonshot, that consults with utilities nationwide.
Hawkins began his career practicing law in Boston but was drawn to the nonprofit world and public service. "Purpose is everything to me," Hawkins says. "Whether humankind is going to be able to survive on this planet in a way that's sustainable is still an open question. Survival of people — and all other species — is well worth our attention."