Achievements
Commencement Is a Day of Many Firsts for Speaker Heaven Sensky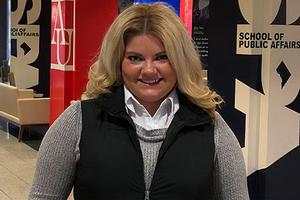 On Sunday, Dec. 16, Heaven Sensky, BA/SPA '18, became the first in her family to receive a college degree. When she came to American University School of Public Affairs (SPA) from her home in rural Pennsylvania near Pittsburgh, she'd never heard of the terms "first-gen" or "intergenerational poverty."
Sensky quickly learned her background was very different from that of many of her peers. She faced challenges as a first-generation college student — struggling to feel worthy and not sure where she fit in.
"I thought I'd find my place, but it hasn't played out like that," said Sensky. "I'm navigating what it's like to exist in two worlds and not be a part of either. It's something I continue to straddle."
Sensky shared her story as the student speaker at AU's 2018 Fall Commencement. She graduated after three and a half years with a degree in communication, legal institutions, economics, and government (CLEG) and a minor in women's studies. In her remarks, Sensky said she will encourage others to continue to talk about race and poverty and ask questions about their identity.
"Don't slack on finding credible sources to seek all information you are receiving and disbursing," Sensky said to the audience. "And don't let AU be the last place you engage in the civil discourse we had in our classes."
Since middle school, Sensky has been involved in politics and advocated for herself, her family, and her community. When Sensky was born, her mother was a teenager, and Sensky spent most of her life caring for her disabled father. Sensky says that when she began to think about college, the political climate grew to affect her life on a day-to-day basis, and she was determined to help usher in change as a lobbyist.
Sensky wanted to study politics and knew Washington was the place to be — although AU initially seemed out of reach. It wasn't until after she visited AU as a high school student that she realized just how much she liked the school and that a private school was, in fact, a possibility.
Sensky said that working on campus at the Center for Diversity and Inclusion provided her with a sense of community and support. She was part of the inaugural team helping with the AU Experience Program (AUx) for incoming freshman and said she found power in students telling personal stories about the complexity of their lives.
"In college, I learned how to find answers," said Sensky. "I really gained the tools not only to understand the world better but to also understand myself."
Last summer, Sensky was one of five interns working in the office of Michelle and Barack Obama — a great opportunity, she said, to get to know the former president and first lady on a first-name basis. During her time at AU, she also interned for U.S. Senator Bob Casey, Jr. (D-PA).
Instead of opting for a post-graduation job in D.C., Sensky took a position in grassroots organizing for the Center for Coalfield Justice in Pennsylvania. She said she felt a pull to give back to her community, be a positive role model, and guide others to college.
Looking back on her time at AU, Sensky said, "Obtaining this education was and will continue to be worth every feeling of survivor guilt, every 80-hour week, and every sleepless night."
We at SPA have a feeling you will be able to read Heaven's memoir, available in approximately 30 years.