Research
AU School of Public Affairs Student Recognized for Work in Comparative Politics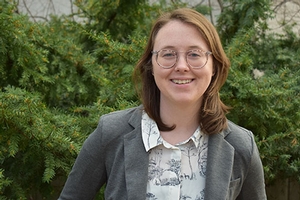 Danielle Higgins (SPA/PhD '19), an AU School of Public Affairs doctoral student studying comparative politics and American politics, recently received a $6,000 scholarship from the Gill Family Foundation. The money is for dissertation support for Higgins.
Higgins' research focuses on female political participation. She's trying to measure feminist theories about the public-private dichotomy using a time-series, cross-national database that aggregates information on policies affecting the chances for women's full participation in politics. Her dissertation explores conditions that create or limit opportunities for women to become political office-holders, and look at how shifts in these policies, combined with increasing female representation, affect attitudes toward female politicians.
"This scholarship comes at the perfect moment for me in my PhD program as it helps to alleviate my financial burden and enables me to focus more fully on the dissertation," says Higgins. "This recognition for my research from the SPA faculty increases my confidence, encourages me, and motivates me, all of which will surely help facilitate my writing."
The scholarship was provided by the Gill Family Foundation, established in 1997 in Houston, Texas, to further the Gill family's interest in support of educational philanthropy. The Gill Scholarship is open only to SPA doctoral students and is based on student's grades, dissertation proposal and letter of interest.
Higgins hopes the findings from her dissertation can be used to advocate for policies that will increase equity for women and girls.
Prior to coming to AU, Higgins completed a bachelor's degree at New York University with a double majoring in Political Science and Spanish Literature, with a minor in Arabic language. Her undergraduate thesis on the social and economic determinants of support for political Islam was awarded the Dean's Award for Political Science. She is a graduate of Brandeis University with a master's degree in politics.
After completing her doctoral program, Higgins plans to look for a faculty position at a college or university that places a strong emphasis on teaching women and girls.