Research
Housing and Policing Practices Have an Impact on Overdose Mortality in Philadelphia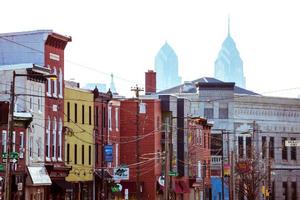 In 2016, Philadelphia had the second-highest drug overdose mortality rate of any U.S. city – but not all areas of the city were affected equally.
SPA Assistant Professor Lallen Johnson and graduate student Tayler Shreve (SPA/PhD '23) analyzed the variations in fatalities across neighborhoods and found housing conditions and policing patterns played a role in the disparity. The results of their study appear in an article, "The Ecology of Overdose Mortality," recently published in the journal Health and Place.
With so much media attention on the opioid epidemic in Philadelphia, where one in four citizens lives in poverty, Johnson says he wanted to understand the factors to explain the uneven death rates. The researchers found drug overdoses deaths were higher in parts of the city where police made more arrests. Johnson speculates if people who use drugs are concerned about the threat of arrest, they may be more evasive and it may be more difficult to access medical assistance in an emergency. Also bystanders wary of police may be less likely to intervene to seek emergency services. The study also showed the environment made a difference.
"ZIP codes in the city with a higher concentration of vacant housing, dilapidated structures and older housing stock– spaces that provide opportunities where drugs can be consumed – tend to have higher mortality rates," Johnson says.
Johnson says these results could have real public health policy implications and provide evidence to suggest where overdose prevention centers should be located. The work also speaks to how particular spaces should be policed.
"Policing is a very salient form of social control – particularly for people who use drugs," Johnson says. "But it's important to remember that we probably can't police ourselves out of public health concerns. Police officers, in general, have little training in dealing with social issues that entail drug use. We need to have a conversation about the role of law enforcement in the opioid epidemic."
Shreve says she hopes the study will resonate in the current discussion about defunding and reforming. "Often the response to a problem is to send in more officers, but sometimes that's not the best choice," she says. "It can lead to riskier behavior and drug practices."
The researchers used data from the Philadelphia medical examiner's from 2011 to 2017 that was publicly available through the Philadelphia Inquirer newspaper. Shreve, a graduate research assistant who prepared and coded the data, says it has been helpful to learn marketable GIS mapping skills through the experience.