Research
Inequality in America: Beyond the Numbers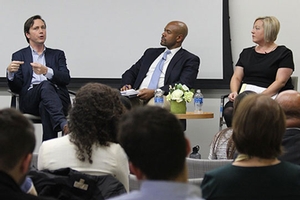 Despite America's commitment to equality and fairness, the reality is that the gap between the rich and the poor is stark and growing. Just what that means for housing, education, and the criminal justice system was the focus of a recent event on the American University campus.
Inequality was the topic at a recent event hosted by the American University School of Public Affairs' Washington Institute for Public Affairs Research. SPA Associate Professor Bradley Hardy moderated a panel that included Stefanie DeLuca, a sociology professor at Johns Hopkins University; Michael Stoll, a professor of public policy at UCLA and Richard Reeves, a senior fellow at the Brookings Institution.
SPA Professor and WIPAR Director Dave Marcotte kicked off the discussion by sharing longitudinal data that underscored the urgency of addressing inequality. Earnings of low- and moderate-income Americans have been relatively stagnant over the past 50 years while those in the 80th percentile saw their incomes rise. Those trends should be of concern because money matters in providing access to safety, health care, education, and even life expectancy, Marcotte said.
Framing inequality as "what happens when people work equally hard and end up in different places," DeLuca explained that the housing affordability crisis deepens as families become poor.
"Housing is not just a structure, it is a social location," said DeLuca, who has researched the impact of housing on the mental health, education, and aspirations of low-income Baltimore residents. "Place matters. It shapes social mobility."
Stoll, who wrote the book "Why Are So Many Americans in Prison?" showed the audience how U.S. incarceration rates have grown dramatically since the 1970s, particularly for young men of color who are lacking education.
"Through the legislative process or policy decisions, we have decided to use prisons more to control crime irrespective of whether or not prisons are an effective deterrent of crime," Stoll said, adding that referenda to get tough on crime may be triggered by a need to blame others for income inequality.
Reeves, author of "Hoarding the American Dream," discussed the impact of class, mobility, and the experience of upper-income Americans. He took aim at tax exemptions that benefit the wealthy, college admissions policies that favor legacy applicants, and high-income earners who use their connections to secure internships for family members.
"The class reproduction machine that operates in the U.S. does so under a camouflage of classlessness," Reeves said. "We are distracted from the myth of meritocracy, and that has significant consequences."