On Campus
AU Ed Talk: An Inside Look at the 2020 Election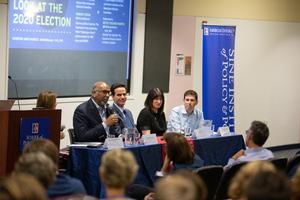 Top journalists and former leaders of the Republican and Democratic National Committees gave their impressions of the ever-changing political landscape heading into the 2020 presidential election at An Inside Look at the 2020 Election, an American University "Ed Talk" hosted by the AU School of Public Affairs (SPA) and the Sine Institute for Politics & Policy on Oct. 5 during American University's All American Weekend.
Panelists included Robert Costa, national political reporter for The Washington Post; Chris Donovan, SPA/BA '97, executive editorial producer at ABC News; Michael Steele, former chairman of the Republican National Committee; and Amy Dacey, SPA/MA '95, former CEO of the Democratic National Committee and executive director of the Sine Institute.
"At SPA, we have a saying that the 2020 election is our Super Bowl." said SPA Dean Vicky Wilkins in her opening remarks. "If that's our Super Bowl, this is the best pre-game show."
The panel, moderated by Betsy Fischer Martin, SPA/BA '92, SOC/MA '95, executive director of SPA's Women & Politics Institute, underscored the crucial juncture facing the nation with the impeachment process, the crowded field of Democratic presidential candidates, and the barrage of news from competing media outlets.
"Every day, Republicans now are being confronted with choices. Democrats also are trying to make choices about how to keep this process narrow. And you are all, as American University students, living through history," said Costa, who hosts PBS's "Washington Week" and received an honorary doctorate from SPA in 2017. "What's most striking to me, as a reporter, is how much of this moment for many Republicans who are my sources, is a political calculation. When I ask about moral and legal considerations, they really don't want to engage on those questions."
Steele, an analyst on MSNBC, said the Republican Party is navigating the global and domestic implications of President Trump saying "I have a favor, though" to the President of Ukraine in conversation about foreign aid to Ukraine and an investigating former Vice President Joe Biden and his son, Hunter.
"Those words will go down in infamy from this moment because it indicates a lack of appreciation of the very delicate balance between your political duty and your presidential responsibility," said Steele. "At some point your presidential duty kicks in and says, 'In this moment we will not leverage politically for ourselves.'"
The panelists also discussed the importance of messaging and media coverage in the campaign. At ABC News, Donovan explained how he does extensive research and tries to put current events into historical context as he prepares for interviews and debates.
"We try to be as fair as we can possibly be – looking at all sides of the issues," said Donovan, who came to American University and SPA as an undergraduate to be in the center of political activity in Washington. "When we approach a guest, we try to think of all the potential challenges to what the guest is saying or what they have said in the past."
Fostering a bipartisan dialogue about relevant political topics is part of the mission of the new Sine Institute, said Dacey, who is its executive director: "The leadership is not talking about issues or what some of the solutions are to the biggest problems facing the nation. The [Sine] Institute wants to talk about where there are pockets of innovation."
Watch the video of the event here.