Research
Women & Politics Institute Director Jennifer Lawless Named as New Editor of Politics & Gender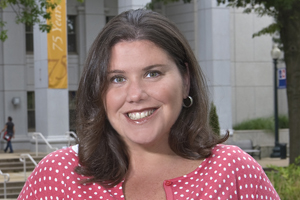 Politics & Gender, a leading political science journal, named Jennifer Lawless, director of the Women & Politics Institute and associate professor of government at AU's School of Public Affairs, as the journal's editor for 2010–2013.

The journal's editorial search committee unanimously recommended Jennifer Lawless and her team at American University. "As President of the Women and Politics Research Section of the American Political Science Association, I am very happy to be able to extend congratulations to the team headed by Professor Lawless for being officially selected to shepherd the journal through the next three years. I am pleased to be able to offer the strong support of the section for this next editorship," said Mary Hawkesworth, chair of the search committee.

Professor Lawless has recruited an editorial team that includes as associate editors Professors Richard Fox (Loyola Marymount University); Sharon Krause (Brown University); Mona Lena Krook (Washington University, St. Louis); Elisabeth Prugl (Graduate Institute of International and Development Studies, Geneva) and Sue Tolleson Rinehart (University of North Carolina). This group of scholars represents expertise across the diverse subfields of women and politics research.