Achievements
SPA Ranked Among Top Universities for Institutional Impact on Research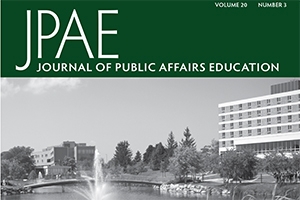 American University's School of Public Affairs is ranked 5th worldwide, 3rd in the U.S., and 1st in the Washington, DC area for institutional impact on research in the field of public administration, according to a new study published in the Journal of Public Affairs Education.  
To create the index, study authors surveyed public administration journals to determine quantity of articles published by an institution's faculty, quality of the journals in which those articles appear, and overall institutional impact. The score is based on five years of manuscripts published in Thompson Reuters Journal Citation Report-indexed public administration journals.  
American University was ranked 4th for quality of journals in which articles appear and 9th for quantity of articles published. The results also indicate the University's upward trajectory in recent years –data broken out by year shows American University's ranking climbed steadily from 31st to 5th over the five years of the study.  
"School of Public Affairs faculty members share a commitment to world-class teaching and high-impact research," said Barbara Romzek, dean of the School of Public Affairs. "To see that commitment come to life in our ranking in this index is truly exciting."