In Remembrance
Remembering Julian Bond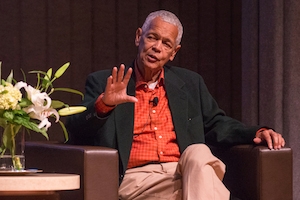 AU School of Public Affairs is saddened by the loss of Julian Bond, distinguished adjunct professor, who passed away Saturday, August 15, 2015.
Julian Bond brought to the School of Public Affairs a proud history as a leader in the civil rights movement and a voice for social activism.
He was an early advocate of marriage equality and supported environmental causes.
Bond said of his experience at AU School of Public Affairs: "After teaching at many fine schools, the students I am closest to are those I met and taught at SPA. We have developed lasting and continuing relationships."
Bond joined SPA in the 1990's as a distinguished adjunct professor of government. In that time, he taught more than 500 students at AU. His classes—an honors course focusing on the oral history of the civil rights movement, and an advanced study of the politics of civil rights—were continuously filled with students excited to learn from an historic icon.
Bond was scheduled to teach a course in Fall 2015. Plans for course instruction will be shared soon with students enrolled for the course.