Research
SPA Researchers and D.C. Address Inequities in Lead Pipe Removal Program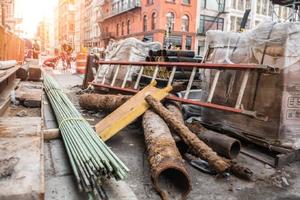 For years, evidence has shown that exposure to lead––even at low levels––can harm children, and scientists are starting to see links between lead and cardiovascular problems in adults. However, many people still receive their drinking water through pipes composed of this toxic substance.
While government programs have tried to address the problem, not everyone benefits equally from these efforts. According to a new report supported by the SPA Center for Environmental Policy, the Environmental Defense Fund (EDF), and D.C. Water, and funded by the Robert Wood Johnson Foundation, remediation efforts that rely on customers to pay part of the costs of removing lead pipes can leave low-income and African-American households at greater risk for continued exposure. 
Karen Baehler, SPA scholar in residence, was the first-named author of a study, supported by SPA graduate students Carley Weted and Theo Laguna, analyzing data from a lead pipe replacement program in the District of Columbia between 2009 and 2018. Though the local utility contacted homeowners and made participation as easy as possible, replacement estimates averaged $2500, and ranged as high as $10,000, rendering the expense unaffordable for many in the city. 
As a result, rates of full lead pipe replacement (both public and private segments replaced) were two to three times higher in the city's highest-income areas compared to areas with the lowest incomes. Areas with the highest percentage Black populations had rates of full replacement two to three times lower than those with smaller minority populations. 
"It was an unintended consequence, but not entirely unexpected given the cost," said Baehler of the environmental justice issues. Since the 1970s, blood lead levels (BLLs) in U.S. children have been reduced by an average of 95%. However, she noted, higher BLLs are disproportionately found in children of color and low-income families, due to lead in paint, soil, and water in their environments. 
In the fall of 2019, D.C. implemented a new policy to remedy the issue of cost, which Baehler recommends as a model for other communities facing similar inequities. The District government now provides generous assistance for those who need help paying for full lead pipe replacement. Still, some homeowners may be reluctant to have the work done on their property, and language barriers may prevent other residents from taking advantage of the program. 
At the federal level, the Environmental Protection Agency is revising the Lead and Copper Rule, which addresses this issue. During the public comment period, Baehler and her EDF partners submitted these results to help inform policymakers about the equity impacts of existing lead pipe replacement programs. She hopes the study's findings will fuel support for prohibiting partial lead pipe replacements and bring more federal financial support for full replacement projects. 
Baehler plans to use the baseline established by the study to track implementation of the new D.C. replacement program, as it attempts to narrow the gap of participation by income.
"Social science has a lot to contribute to current events and our understanding of how to make change," Baehler said. "It's very satisfying to be part of a project that does that. At AU and SPA, we fully recognize we are citizens of D.C. and we want to provide information that is actionable immediately for the District's leaders. In this case, we also can point to D.C. as a model for the country."