Achievements
Marguerite Jimenez Named White House Fellow Finalist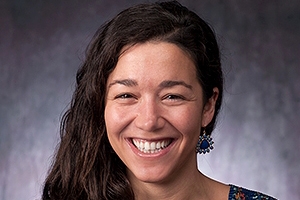 Marguerite Jimenez, a postdoctoral fellow at the School of Public Affairs, has been named a national finalist for a 2014-2015 White House Fellowship.
The White House Fellows Program is the nation's most prestigious program for leadership and public service. The finalists hail from across the United States and represent a cross-section of professions, including education, law, business, medicine, ministry, academia, nonprofit and the armed services. National finalists are chosen for demonstrating "remarkable professional achievement early in their careers, a commitment to public service and the leadership skills needed to succeed at the highest levels of the federal government."
Jimenez is a professorial lecturer in the Department of Public Administration and Policy at the School of Public Affairs. Her research focuses on policy innovation and diffusion, and comparative public policy in low- and middle-income countries, with a specialty in public health policy in Latin America and the Caribbean. She published a second edited volume on contemporary Cuba, a monograph on vaccine diplomacy for the National Academy of Sciences, and was named an American Political Science Association Congressional Fellow for 2014-2015.
She holds a doctoral degree in political science and a master's degree in international service, both from American University.