On Campus
SPA Alum Sarah McBride Discusses Her New Book About Her Transgender Journey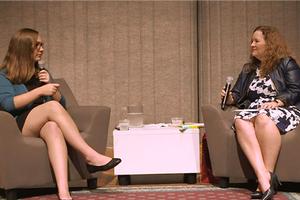 It was on the American University campus where Sarah McBride, SPA/BA '13, honed her leadership skills and found her voice. At the end of her term as student government president, McBride came out as a transgender woman in an op-ed published by The Eagle.
McBride shared her personal story and professional journey as an LGBTQ advocate in her book, "Tomorrow Will be Different: Love, Loss, and the Fight for Trans Equality," published by Crown Archetype in March. She discussed the book with AU School of Public Affairs' Dean Vicky Wilkins at a recent event sponsored by the school.
In 2016, McBride was the first transgender person to speak at a national political convention when she addressed the crowd at the Democratic National Convention. She had worked at the White House during the Obama administration promoting inclusive legislation for the LGBTQ community. Today, she is the national press secretary at the Human Rights Campaign in Washington, D.C.
McBride will receive the Rising Star Alumni Award from AU at a dinner on Oct. 20.
"In all my writing, whether the first coming out note at AU or this book, I believe that stories do have the power to open hearts and change minds – to cut through caricatures and misinformation," said McBride.
McBride acknowledged coming out was much easier for her because she is white, educated, politically active, and comes from a family of economic means. Those who are transgender and are part of multiple marginalized communities can experience compounded discrimination. McBride says 2017 was the deadliest year on record for the transgender community — at least 28 transgender people were killed.
"When we live at the intersection of not just transphobia, but misogyny and racism, you can face violence that has life-altering and sometimes life-ending consequences," she said.
Wilkins asked McBride about her writing that she "came out of the closet, but got stuck in the kitchen" and the adjustment to encountering sexism after her transition.
"I didn't fully wrap my mind around just how pervasive and insidious sexism would be," McBride says. "The 10 or 15 decisions one has to make before they leave the house can lead to a thousand judgments throughout the day one way or the other and can lead to a sense of security or not."
In their conversation before an audience at the SPA event, Wilkins noted the tension McBride expressed in the book about how to best represent the transgender community and acknowledged her honesty in speaking out.
McBride has dedicated her work to educating the public about the realities of being transgender and pushing for public policies that treat people in the community with respect.
"I struggle with to what degree does my privilege place a responsibility on me to advocate and to what point does my privilege make me an imperfect messenger," McBride said. "Sometime I get it right. Sometimes I get it wrong. Sometimes I need to hand over the mic, and in other instances, I need to bear the burden of public education."
In her journey, McBride says she's learned to keep in mind: "If you lead with compassion and lead with kindness, most people will follow."