Student Life
Graduate Student Meghan Ballard Talks About "Being Part of the Change"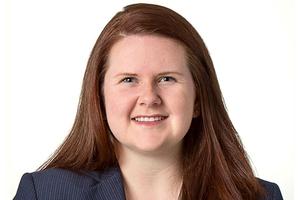 In the fall of her senior year at the University of California, Berkeley, Meghan Ballard (SPA/JLC '18) came to Washington, D.C., for the semester. She never left. She interned at the U.S. Department of Justice, Civil Rights Division and was offered a job that spring, graduating early at the age of 20. At DOJ, she has worked on antitrust criminal cases and is now a civil rights paralegal specialist.
Ready for a new challenge, Ballard enrolled in SPA's Justice, Law & Criminology graduate program with a concentration in public policy.
"I've always been drawn to social and racial justice issues," says Ballard. Growing up in the San Francisco Bay area, where her high school had an ethnic studies requirement, Ballard says she experienced a community where people from diverse backgrounds were able to learn from one another and live together in a meaningful way.
Ballard had considered becoming an attorney but says graduate school is exposing her to several other options.
"I like the interdisciplinary nature of SPA. It has a unique blend of research and policy. I'm not sure what path I'll take, but I want to explore both," says Ballard, 28. With her new quantitative analysis skills, she could be suited for a position tracking federal justice statistics. Or she may pursue her doctorate and go into academia.
For now, Ballard says she enjoys the overlap between her job and classes. While working at DOJ on language access issues and accessibility to federally funded programs and activities, she wrote a research paper while at SPA on the effect of being a non-English speaker in prison. She will be presenting her findings at an upcoming academic criminology conference.
Ballard learned about scholarly publishing working as an editor on the student-run Policy Purpose Journal. She is also helping with start-up efforts for the Antiracist Research and Policy Center at AU and is working on a research project about homicide clearance rates.
Moving forward, Ballard is interested in being part of the movement to improve the criminal justice system and reform correctional policy.
"Everybody should be able to live a full life regardless of who they are. When there are impediments to doing so, if you have the ability and opportunity to be part of the solution then I believe you should," says Ballard. "I've decided to be part of the change by identifying where systems can be reformed and working with others to implement improvements. SPA is providing me the tools to make that possible."