Government & Politics
Can Writing a New Constitution Improve Democracy?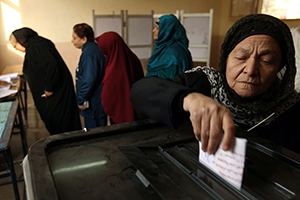 A constitution does not necessarily lead to more democracy, but it could if a country is willing to involve citizens of all types and backgrounds, in crafting it early on.
That is the finding revealed by American University School of Public Affairs (SPA) Professor Todd Eisenstadt, SIS Associate Professor Carl LeVan, and Loyola University of Chicago Assistant Professor Tofigh Maboudi (SPA/PhD'16), at a recent forum hosted with the American Bar Association's Rule of Law Initiative.
The three are working to complete a book, "Constituents Before Assembly: Participation, Deliberation, and Representation in the Worldwide Crafting of New Constitutions," to be published by Cambridge University Press next year. The book extends a 2015 study published in the American Political Science Review called, "When Talk Trumps Text: The Democratizing Effects of Deliberation during Constitution-Making, 1974-2011."
Their research shows that the level of democracy increased in 66 countries following the adoption of a new constitution, but decreased or stayed the same in 72 others. Using data covering all 144 new constitutions in 119 countries between 1974 and 2014, research shows that constitutions crafted with meaningful and transparent public involvement are more likely to contribute to democratization.
"In getting to democracy, we found, how the new constitution is crafted is more important than the language in its text," said Eisenstadt. "The process matters at least as much as the parchment."
The study was particularly timely in explaining some of the successes – and shortcomings – of recent Middle East constitutional processes.
"Our findings explain the mixed results of Arab Spring constitutions in bringing democracy to the Middle East," said Maboudi. "While non-inclusive processes in Egypt and other countries resulted in authoritarian resurgence, the inclusive and participatory constitutional reform process of Tunisia was a major cause of the country's transition to democracy."
Policy implications of the study, according to LeVan, include a warning to international democracy promoters that "back end" plebiscites, which is the direct vote of all the members of an electorate on an important public question, and any referenda to gain public support for constitutions will have little effect if a broad range of parties is not initially part of the "front end" drafting process.
Also speaking at the event were Hélène Landemore, an associate professor of political science at Yale University who has studied Iceland's adoption of a new constitution; and Nathan J. Brown, an expert on Middle East constitutions who is a professor of political science and international affairs at The George Washington University.
During the event, the panel noted that, while grass-roots involvement is likely to increase democracy, new constitutions are sometimes imposed from the "top down." Leaders take this step, LeVan said, to ensure the stability of their regimes, to distribute risk, and to address challenges from the opposition.
For more information, you can read a recent Monkey Cage blog post that Eisenstadt and the other panelists wrote for The Washington Post.