Achievements
SPA Undergraduate Student Awarded Research Fellowship by National Science Foundation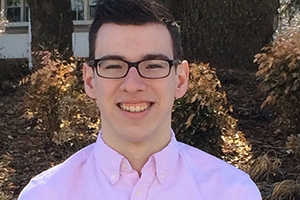 Brian Hamel, SPA '16, was recently awarded a graduate research fellowship from the National Science Foundation (NSF). The award will provide Hamel with a $34,000 annual stipend for three years.
"These awards are provided to individuals who have demonstrated their potential for significant research achievements," said Joan Ferrini-Mundy, NSF assistant director for Education and Human Resources. "They are investments that will help propel this country's future innovations and economic growth."
After completing his undergraduate degree at SPA in May, Hamel will enter the doctoral program in political science at UCLA. He intends to become a professor of political science at a research university, where he will pursue his interests in political participation, money in politics, and campaigns and elections in the U.S.
Hamel credits his achievements to the Honors Program and, especially, to his adviser, SPA professor Jan E. Leighley.
"Jan has been my mentor since my sophomore year," said Hamel. "She and I share common interests in American political behavior and, specifically, political participation. More than anything, though, Jan has always been there for me – whether it's giving generous feedback on my work, talking about new ideas, or giving career advice. You name it, she's there! She is a dedicated adviser, and I'm certain that I would not be where I am today without her."
Last fall, Hamel was accepted into the "Advanced Empirical Research on Politics for Undergraduates Program"-- a joint program of the NSF and the Society for Political Methodology. He received a grant of $1,000 and a spot on the program at the July 2016 meeting of the Society for Political Methodology. Hamel was also recognized at AU earlier this year as an Outstanding Honors and Scholars Senior.