Achievements
Prolific Author on Public Service to Deliver Levine Lecture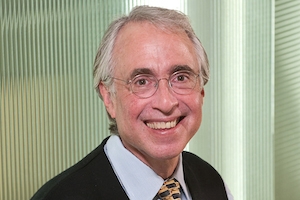 Paul Light, a prolific author on government reform and public service, will discuss "The National Commission on the Public Service at Twenty-Five Years and Counting" at the Fifth Annual Charles H. Levine Memorial Lecture on Wednesday, April 9, at 6 p.m. in the Butler Board Room of the Mary Graydon Center. 
The talk is free and open to the public, and sponsored by the Department of Public Administration & Policy.

Light, the Paulette Goddard Professor of Public Service in the Robert F. Wagner School of Public Service at New York University, was a senior advisor to the staff of the National Commission on the Public Service, also known as the Volcker Commission, which issued a report in 1989 on the changes needed to restore vitality and credibility to the public service. 
Before joining New York University, he was vice president and director of governmental studies at the Brookings Institution and founding director of its Center for Public Service. In addition to the Volcker Commission, he was senior adviser to the U.S. Senate Governmental Affairs Committee from 1987 to 1989. 
He is the author of 25 books, including works on social entrepreneurship, the nonprofit sector, federal government reform and public service. His most recent book, Government by Investigation: Presidents, Congress, and the Search for Answers, 1945-2012, published this year, examines the 100 most significant investigations of policy failures, bureaucratic mistakes and personal misconduct undertaken by the federal government between 1945 and 2012. 
Charles Levine, a political scientist who was an expert on the civil service, was a Distinguished Professor of Government and Public Administration at the School of Public Affairs and deputy director of the National Commission on the Public Service. He died in 1988 at the age of 49. 
A champion of the civil service, he lamented what he saw as a decline in morale of federal workers. He assailed the frequent attacks on the civil service by politicians and government officials and the increasing use of political appointees to fill top civil service jobs. 
A native of Hartford, Dr. Levine earned a bachelor's degree at the University of Connecticut and master's and doctoral degrees in political science at Indiana University. 
He was the author of nine books, the most noted of which was Managing Fiscal Stress. The book dealt with the many techniques used by cities and counties to deal with fiscal crises. His books and articles in that field were considered at the time seminal contributions. 
He was also widely published in leading journals of public administration and policy. He was the founding editor of the journal Administration & Society, served on the National Council of the American Society for Public Administration (ASPA), and received ASPA's William E. Mosher Award for Scholarship.