Education
AU's PERIL Addresses Youth Radicalization and Extremism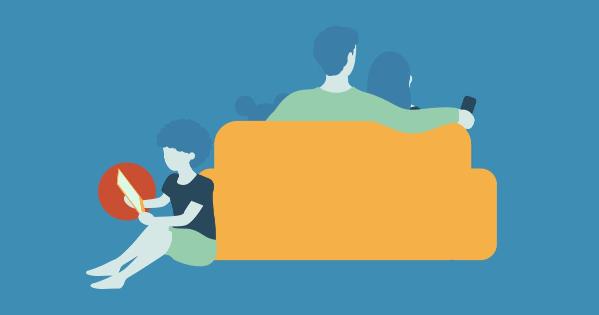 At a time when digital gathering places act as breeding grounds for hate groups and materialize in real-world horror, the issue of youth radicalization is on the mind of the nation. In response, the Polarization & Extremism Research & Innovation Laboratory (PERIL), a program of the American University Center for University Excellence, directs the resources and expertise of higher education to the pressing problem of youth polarization and extremist radicalization. With partners such as the Anti-Defamation League, the Bertelsmann Foundation, and the Southern Poverty Law Center (SPLC), PERIL looks to identify digital routes to extremism and train caregivers and other stakeholders in identifying and neutralizing online threats.
This summer, PERIL and the Southern Poverty Law Center released an updated version of its flagship guide "Building Resilience & Confronting Risk in the COVID-19 Era: A Parents & Caregivers Guide to Online Radicalization." The publication lists tangible steps to counter the threat of online radicalization, tips for recognizing warning signs, and resources for children or young adults suspected of exposure to or immersion in extremism.
"Communities are looking for resources that not only help them recognize risks, but also build resilience to extremism," said PERIL Director and SPA Professor Cynthia Miller-Idriss. Historically, many stakeholders have looked to solve the extremism issue solely through the criminal justice system, without basing efforts on evidence, developing best practices, or investing in non-carceral solutions.
"A lot of previous interventions and work on countering and preventing violent extremism aren't necessarily backed by evidence, and focus on security and law enforcement," said PERIL Associate Director and Co-Founder Brian Hughes, also a research assistant professor in the SPA Department of Justice, Law and Criminology.
Partnership with the Southern Poverty Law Center
The updated guide represents the culmination of a partnership that began in 2017, when SPLC leadership reached out to AU scholars to discuss the importance of generating evidence-based work in the field of extremism. They quickly realized advantages of working together.
"SPLC was our very first partner," added Hughes. "It is possible that PERIL would never have launched without their support. We shared a goal: to inform and empower all adults with the tools to recognize signs of extremist radicalization and feel equipped to intervene with a young person in effective ways."
"Young people are being targeted online by extremists looking to exploit and radicalize them," said Lydia Bates, Senior Research Analyst with the SPLC's Intelligence Project. "This is why it was critical to us to not only provide resources for parents and caregivers but ensure they are as effective as possible."
Using an initial SPLC grant, PERIL hosted a forum for experts in education, racial justice, extremism, and terrorism. This "Blue Sky Meeting" allowed stakeholders to discuss existing resources to combat radicalization, most of which involved the criminal justice system, and the need for solutions that center the needs of potential victims of extremist hate and violence.
"We just listened to the experts," Hughes recounted. "We asked them where they saw the gaps in the field. 'What can we do that is non-carceral? How can we stop people from doing the things that will land them in prison?' Then last, but certainly not least, `How do we focus this on the actual victims and communities impacted by extremism?' We decided very early on that this couldn't just be another way of shoveling resources at young white men."
With these initial questions and priorities in mind, PERIL prepared a plan to visit schools, to share resources and better identify issues on the ground, but pivoted when COVID made this approach impossible.
"We put our heads together and thought about how we could actually contribute to the effort to keep our society going in the midst of this pandemic," said Hughes. "There were a lot of new and increased risks associated with radicalization, because of all the time young people were spending alone."
In June 2020, they released the free, downloadable online guide instead, available on both SPLC and PERIL websites and distributed widely to end users through email lists, social media, and webinars. Sections include "What is Radicalization?", "Recognizing Warning Signs," "Understanding the Drivers," "Engage and Empower," "Responding to Hate," and an appendix tracking the sites, platforms, and apps frequently used by extremists for recruitment.
The preface explains the immediacy of the issue in language that all parents and caregivers can understand. It reads, "Extremists looking to recruit and convert children are predatory. Like all forms of child exploitation, extremist recruitment drives a wedge between young people and the adults they would typically trust. Radicalization is a problem for our entire society, from the innocent people it victimizes to the family bonds it breaks apart."
Impact Survey and Focus Groups
With the guide in circulation, PERIL's next challenge was to establish whether it was effective.
"We collect evidence before and after our interventions," said Hughes. "You have to know if what you're doing has actually worked. Because the stakes are high, there is a possibility of making things worse."
They conducted an empirical impact survey of 755 adults, as well as 13 focus groups with educators, school counselors, social workers, coaches, mentors and youth group leaders. The findings, available here in full, were positive, and yielded several insights. For example, seven minutes with the guide dramatically improved a user's knowledge of extremism and youth radicalization. In addition, adults who spent more time reading the guide felt better equipped to take immediate action to prevent online radicalization.
Other findings presented counter-intuitive insights about caregiver preparation.
"The more educated, and the more urban that a parent or caregiver was, actually the less prepared they were to speak about this stuff," said Hughes. "They felt very prepared. They felt like they knew a lot. But it turned out that they actually knew less than people without higher degrees, and people who lived in rural or exurban areas."
The results from the impact survey and focus groups led to the development of SPLC and PERIL's newly published resources, which stress, among other things, the dynamic nature of radicalization and the dangers of overconfidence.
"Dealing with radicalization has to begin with recognizing that you probably don't know enough," said Hughes. "No matter how much you know––you probably need to learn more. That applies even to the experts."
Focus groups recommended that more attention be given to protecting and supporting the potential and actual victims of extremist targeting. They also suggested expanding the target audience to categories beyond parents and caregivers, such as psychologists, teachers, educators, coaches, and mentors.
Finally, both sets of data revealed that people needed context about extremism in a wider, global setting, and that stakeholders needed to look beyond current challenges to what might be coming next.
"We needed to address those geopolitical and social contexts that create hotspots of risk for extremism, sort of in the same way that COVID created a hotspot," explained Hughes.
The Revised Guide and New Resources
This summer's reissue incorporated much of this feedback, as PERIL and SPLC revised the parents and caregivers guide for the post-COVID era. They developed separate supplements for educators, counselors, and coaches, mentors, and youth group leaders. A fourth supplement, entitled "Special Topics in Online Youth Radicalization," helps stakeholders spot global circumstances that could predict future problems, such as patterns of migration, political conflicts, ecological crises, and male supremacy.
When the pandemic allows, PERIL and SPLC plan to move ahead with site visits.
"We're looking to move more into the real world, to begin applying some of these tool kits in learning environments and seeing how the interventions that they propose work with young people," said Hughes. "Adjustments might need to be made when actually trying to apply these lessons in that much messier classroom situation, where things aren't always so clear cut."
Looking forward, PERIL and SPLC will continue their partnership on youth radicalization. PERIL's other current projects include an exploration of COVID vaccine hesitancy, in partnership with Jigsaw (the Google unit that focuses on online threats) and the Harvard T.H. Chan School of Public Health. Related research looks to identify predictors of COVID vaccine hesitancy, formulate a "codebook" for online anti-vaccine rhetoric, and to test tools to intervene against digital misinformation and disinformation.  
For more information on PERIL research, projects, and partners, visit their website.