On Campus
Special Photography Exhibit Honors Work of SPA Alumnus Kevin Sutherland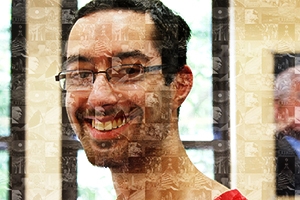 Where stock photos of Washington, D.C., once stood, the School of Public Affairs hallways are now adorned with an exhibit of inspirational photography by Kevin Sutherland, SPA/BA '13, who was killed tragically in July 2015.
"He had a job he loved, in the adopted city that he loved, doing meaningful work and enjoying life with the great group of friends he had made through American University and at New Blue Interactive," said Kevin's father, Douglas Sutherland. "Sadly, it all came to an end much too soon."
As you walk the corridors, you may catch a glimpse of a bright full moon framing the Capitol Dome. Or perhaps, see DC's vibrant fireworks explode behind the Washington Monument. Or maybe you will see the metal arms of the Air Force memorial, among wispy clouds on a beautiful Washington day. Sutherland enjoyed the beauty of photography.
"Over time, Kevin developed an eye for photography, and he could find a great shot in the most mundane location," said Douglas Sutherland. "He found beauty where others had missed it."
Sutherland's photos tell a story of power and beauty, quiet and chaos. His unique point of view gives the audience a lens, not only into our capital city, but also into the heart of its photographer as well.
"Everything you need to know about Kevin you can know from how he took pictures," said former roommate, Joe Ste. Marie. "He was thinking beyond the immediate moment with a sophistication and elegance that reveals the true beauty within things."
Sutherland grew up in Trumbull, Connecticut and developed a love of government and photography early in life. He started his involvement in Connecticut politics by working phone banks and helping out in campaign offices throughout high school. Later, at American University, Sutherland served two-terms as secretary of the student government, then as an intern for U.S. Representative Jim Himes (D-CT). After graduation, Sutherland worked for New Blue Interactive, a digital strategy firm that helps Democratic candidates' fundraising programs.
"It is our intention to create an endowed scholarship to support students seeking a career in public affairs," said Sutherland's father. "In particular, we hope to encourage students who will follow in Kevin's footsteps and enter public service for the right reasons. Kevin was not seeking fame or personal recognition or a high title. Kevin was passionate about making the world a better place."
To learn more about purchasing photos by Kevin Sutherland, email info@KJSLegacyProject.org. You can also learn more about the Kevin Joseph Sutherland Memorial Fund, which was established by Kevin's family and close friends to provide scholarships to AU students, by visiting american.edu/kjsmemorial.