On Campus
School of Public Affairs to Host the Public Management Research Conference in Washington, DC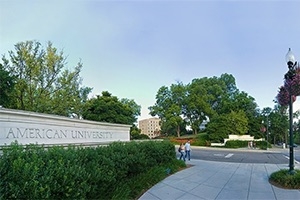 American University's School of Public Affairs will host the 2017 Public Management Research Conference, June 8-10. The school was selected by the Public Management Research Association following an open call-for-proposals.
"We are pleased to be partnering with the Public Management Research Association to host the next conference," said School of Public Affairs Dean Barbara Romzek. "The early months of a new presidential administration are an exciting time for public management scholars to gather and discuss their research and its implications for Washington."
The Public Management Research Conference meets annually, alternating between international and domestic venues, most recently in Aarhus, Denmark. It is the foremost gathering of public management experts in the world. In addition, PMRA publishes the Journal of Public Administration Research and Theory (JPART), one of the premier journals in the field.
For more information, please visit the Public Management Research Association website.