Government & Politics
National Experts Gather at AU School of Public Affairs to Discuss 'Politics of Truth'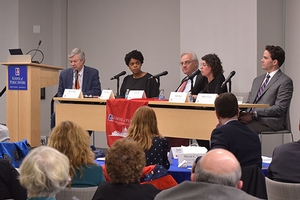 To better understand this phenomenon, the American University School of Public Affairs (SPA) recently hosted a forum called "The Politics of Truth." The day-long conference was supported by a National Science Foundation grant and drew more than 100 of the nation's leading political scientists, communication scholars, and political reporters who have studied these dynamics. Through 20 presentations, four deliberative workshops, and two public roundtables — they debated the causes and consequences of misinformation, "dueling facts," and potential solutions.  

"We wanted to provide a forum with the nation's leading experts to better understand how we, as a country, can move forward," said David Barker, director of the SPA's Center for Congressional and Presidential Studies that organized the event. "Much to our chagrin, fact-checking is rarely effective, and more education just makes the problem worse." With Morgan Marietta of University of Massachusetts-Lowell, Barker is the coauthor of "One Nation, Two Realities: Dueling Facts in American Democracy," which is forthcoming from Oxford University Press.

During the conference, SPA's Liz Suhay led a panel discussion focused on the causes of rumors, conspiracy theories, and polarized fact perceptions of facts. Suhay asked panelists, "How do values, partisanship, and group identity interact to inform motivated reasoning?"

In response, participants considered the impact of growing public distrust in science and universities, the changing media landscape, and the religious culture wars, among other factors. Scholars on the panel included Jennifer Jerit from Stony Brook University, Gregory A. Huber from Yale University, Cary Funk and Scott Keeter from the Pew Research Center, and Joanne Miller from the University of Minnesota.

Another session, moderated by Arthur Lupia of the University of Michigan, considered the range and depth of consequences associated with misinformation and the "post-truth" landscape. The speakers, including SPA Professor and Women and Politics Institute Director Jennifer L. Lawless, discussed the deepening policy gridlock, a growing lack of faith in the press, and spiraling interpersonal contempt between people who see reality differently.

The lunchtime keynote was a conversation between Michael Gerson, chief speechwriter and policy advisor to President George W. Bush, and Mike McCurry, White House press secretary to President Bill Clinton. The conversation was moderated by SPA Executive in Residence Betsy Fischer Martin. Both Gerson and McCurry lamented the current ethical landscape as it relates to public information and warned that we are on the precipice of becoming a society in which the truth no longer matters at all.

The conference wrapped with a journalist roundtable discussion featuring E.J. Dionne and Robert Costa, both of The Washington Post, Molly Ball of Time and CNN, and Shawna Thomas of Vice News. SPA's Executive in Residence Ron Elving, also of National Public Radio, served as the roundtable moderator.

"One of the things we should remember is that our media began as a partisan one with two types of newspapers in the capital," said Dionne during the roundtable event. "It was not until the 1870s that people decided we should sell to a mass audience and not to a political party."

"Journalism ought to bring people into a shared truth," said Ball. "But people can only get this truth if they stop being so divided."