Achievements
SPA Professor Awarded APSA's Best Book on Race, Ethnicity and Politics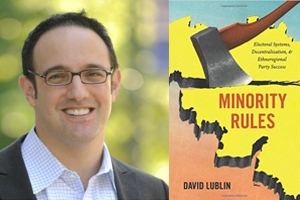 The American Political Science Association has named SPA Professor David Lublin's most recent book its Best Book on Race, Ethnicity and Politics for 2014.
Titled Minority Rules: Electoral Systems, Decentralization, and Ethnoregional Party Success, the work examines the effect of institutions such as the electoral system and the federal system on democracy in nations torn by ethnic conflict. Scottish nationalists, the Basques and Catalans in Spain, and linguistically based parties in India are examples of ethnic groups that have given rise to political organizations.
Published late last year by Oxford University Press, Minority Rules is the culmination of almost a decade of research by the 47-year-old professor. Drawing on data from 80 democracies, it is regarded as the most comprehensive and authoritative work on the topic.
"Ethnic conflict one of the major problems plaguing countries and preventing the successful establishment of democracies throughout the world," Lublin noted. He added that he hopes his work will help reduce majority-minority conflicts.
Lublin's book was recognized at APSA's annual meeting, September 3-6 in San Francisco, CA.
A professor in SPA's Department of Government, Lublin is a fellow of the Center for Congressional and Presidential Studies and serves on the faculty of the Women and Politics Institute.
He is the author of The Paradox of Representation: Racial Gerrymandering and Minority Interests in Congress and The Republican South: Democratization and Partisan Change, both published by Princeton. His articles have appeared in a variety of journals, and his work on redistricting was cited by the Supreme Court in Georgia v. Ashcroft.
Lublin earned a doctorate at Harvard University and a bachelor's degree at Yale University.