Environment
SPA Hosts Student Public Policy Hackathon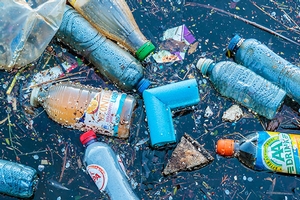 AU students got the chance to apply what they are learning in the classroom to a real-world environmental challenge at the first SPA Public Policy Hackathon recently.
Students who volunteered from various disciplines were given a problem on a Friday afternoon, and they were randomly placed in groups to develop sets of solutions by the following Monday. Each team turned in a two-page memo and then gave a five-minute presentation at a competition before a panel of three judges.
The hackathon topic? Propose solutions to address the Great Pacific Garbage Patch, a huge floating collection of marine debris (mostly plastics), from the perspective of an assigned nonprofit or government association.
The student-initiated event was designed to expose undergraduates to the challenges professionals face in the workplace — working collaboratively under deadline to produce a convincing proposal to solve a problem.
Nils Franco, Econ '18, and Lexi Ivers, Law & Society '18, suggested the idea of a hackathon to SPA administration a year ago and said they hope it will be the first of many held on campus.
"It was fascinating to see the breadth of students who came to it, from seniors to freshmen, and the community that was built," said Franco after the presentations. "When you have a program like this - challenging student teams to work on a public problem with a solutions mindset under a time constraint - you really see the best of a public affairs education come out."
Three student teams competed at the inaugural event. The winning team comprised Ellen Johnson, International Relations '21; Stefan Abarbieritei, CLEG '21; and Alain Xiong-Calmes, CLEG '18.
"I learned a lot working in a group and writing a policy brief," said Johnson. "It was good experience and good practice." 
Xiong-Calmes said he thought the competition would be fun and interesting.
"I wanted to put my SPA skills to the test," said Calmes, a senior who is interning at the Obama Foundation this semester and will soon be entering the job market. "I want to make sure whatever I do is values-guided. I've looked at campaigns, nonprofit work, or maybe going to law school or getting an MPA."
The judges commended team members for giving their weekend to the project and coming up with innovative solutions. They said they were impressed with how the students filtered through the information in a short period and worked together with strangers.
Hackathon judge and SPA Assistant Professor Sonja Walti, said the students clearly had a passion for the topic and were mindful of the political and international processes involved. 
"These are wicked problems that really need complex, interdisciplinary solutions," said Walti. "They naturally gravitated to solutions that come from different disciplines. That is really important."