On Campus
William K. Reilly to Keynote AU's Center for Environmental Policy Leadership Awards and Scholarships Ceremony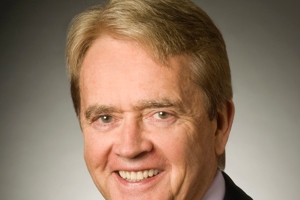 The Center for Environmental Policy will recognize the contributions of leaders in environmental and energy policy with inaugural awards named for William K. Reilly, former administrator of the Environmental Protection Agency. The April 23rd invitation-only event will also include the presentation of scholarship awards to SPA graduate students selected for their promise in these areas.
Reilly will deliver the keynote address for the awards event, "Leadership in a Polarized Era." Neil Kerwin, President of American University, will also make remarks.
Reilly's career has spanned four decades of service to the nation in the public, nonprofit, and private sectors. He is currently a Senior Advisor to TPG Capital, LP, an international investment partnership. During his tenure with TPG, he was the Founding Partner of Aqua International Partners (1998-2010), a private equity fund dedicated to investing in companies in the water sector. Reilly served as the first Payne Visiting Professor at Stanford University (1993-1994), Administrator of E.P.A. (1989-1993), president of World Wildlife Fund (1985-1989), president of The Conservation Foundation (1973-1989), and director of the Rockefeller Task Force on Land Use and Urban Growth (1972-1973). As EPA Administrator, he led the U.S. delegation to the United Nations Earth Summit at Rio in 1992. In May 2010, Reilly was appointed by President Obama to co-chair the National Commission on the BP Deepwater Horizon Oil Spill and Offshore Drilling. Reilly will be introduced by Linda Fisher, Vice President at Dupont for Safety, Health & Environment, and Chief Sustainability Officer.
Leadership awardees
Reilly Leadership awardees are Deerin Babb-Brott, director of the White House National Oceans Council, and Jeffrey Leonard, President and Chief Executive Officer of the Global Environment Fund. Award presentations will be made by Gail Bingham, President Emeritus of Resolve, and JoAnne Shatkin, CEO of CLF Ventures.
Scholarship awards will be made by Daniel J. Fiorino, Director of the Center for Environmental Policy, to Kristina Bell, SPA/MPA'14, Samuel Cramer, SPA/MPP'14, and Zachary Rybarczyk, SPA/MPP'14.
American University's School of Public Affairs created the Center for Environmental Policy in 2010 with the mission of evaluating and improving environmental governance in the United States. The Center sponsors lectures and programs to promote the exchange of ideas, convene forums to encourage dialogue, and conducts research on how institutional approaches, policy strategies, collaborative models, and implementation tools that affect environmental outcomes. The Center is focused in particular in linking research and practice, promoting policy and technology innovation, and understanding the factors associated with environmental policy success.