Law
New Report Highlights Urgent Funding Needed for Public Defense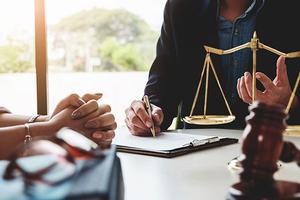 The American University School of Public Affairs' Justice Programs Office Right to Counsel (R2C) National Campaign released a report, Engaging Key System Actors in Support of the Right to Counsel, that shows the American constitutional right to counsel is threatened because public defense providers lack funding and have too few resources and too many cases to effectively represent their clients.
The report launched on March 18, the nationwide celebration of Public Defense Day and the 56th anniversary of Gideon v. Wainwright — the landmark case in which the U.S. Supreme Court held that the accused has a constitutional right to counsel and that, if he or she is unable to afford an attorney, the state must provide one. The Justice Programs Office and R2C joined in solidarity with organizations across the U.S. to commemorate the anniversary and recognize the need for effective public defense.
"Every person accused of a crime whose liberty is at stake has a constitutional right to have access to effective representation," said Kim Ball, director of SPA's Justice Programs Office. "However, inadequate public defense delivery systems stem from caseloads that are too heavy and resources that are too scarce," she says.
The report, a summary from roundtable discussions and interviews among criminal justice professionals, found the following:
This fundamental right [the constitutional right to counsel] is threatened when public defenders have too few resources and too many cases to adequately represent their clients.
Providing more support for public defense will help our courts run more efficiently and improve the quality of justice — and that will benefit every American.
Providing competent legal representation is necessary to prevent innocent people from going to jail and will help reduce overincarceration.
Interviewers gathered input from court administrators, state prosecutors, the law enforcement community, representatives from state administering agencies, county officials, and judges to determine perceptions of the effectiveness of public defense delivery systems, the most pressing challenges, and possible solutions to improving public defense — and what role they can play in advancing improvements.
The Justice Programs Office worked in partnership with the Department of Justice's Bureau of Justice Assistance, the National Association for Criminal Defense Lawyers, and the National Legal Aid & Defender Association to produce this report. Browse more Right to Counsel (R2C) National Campaign publications.