Research
SPA Professor Jennifer Lawless sends message to Class of 2015: Run for Office!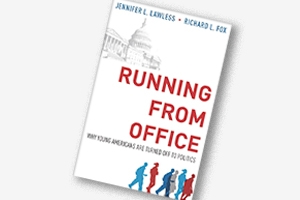 Graduation season has arrived for high school and college students and if American University professor of government Jennifer Lawless and her co-author, professor of political science at Loyola Marymount University Richard Fox, were giving commencement speeches to the Class of 2015, they might go something like this:
"We have good news and we have bad news. After conducting a national survey of more than 4,000 high school and college students, plus more than 100 in-depth interviews with these young people, the good news is that you are civic-minded and want to improve your communities. The bad news is that, according to our survey, eighty-nine percent of you have already dismissed the idea of ever running for political office."
Lawless and Fox, the authors of the new book  Running from Office: Why Young Americans Are Turned Off to Politics(Oxford University Press, May 2015), might also say:
"But it's not your fault. Politicians and the dysfunctional political system have contributed to your lack of political ambition. Teachers, coaches, and the media have reinforced the most negative aspects of the political arena. Government shutdowns, hyper-partisanship, political scandals, and gridlock have turned you off to thinking politics is way to solve problems. In fact, these kinds of things have soured your parents and other mentors from encouraging you to consider a future in elective office. But consider the consequences..."
500,000 Elected Offices in Search of the Best and Brightest
There are more than 500,000 elective offices in the United States, many of which serve as stepping stones to higher office. "Elected officials craft, shape, and implement the laws that affect citizens now and for generations to come," explain Lawless and Fox. But only a fraction of the best and brightest young people – a mere 11 percent of people in their survey – are willing to seek elected office.
In fact,they would rather do almost anything else. In one set of questions, Lawless and Fox presented students with four career options – business owner, teacher, mayor of a city or town, and salesperson – and asked them which they would most like to be, assuming that each paid the same amount of money. Nine out of ten respondents chose a career other than mayor as their first choice. Nearly 40 percent reported that it would be their least desired job.
They also asked them which of the following four higher echelon jobs they found most appealing: business executive, lawyer, school principal, or member of Congress. Serving as a member of Congress came in dead last (just 13 percent of young people chose it). However, it placed first on the "least desirable list."
"Young people are interested in saving the world and care about making their communities a better place. But they don't consider electoral politics a way to achieve those goals," says Lawless.
Political Dysfunction Turning Young People Off
Who can blame young people for ranking a political career so low on their list of life goals? This generation has witnessed hyper-partisan vitriol coming not only from the mouths of politicians, but also from the profusion of pundits and media outlets catering to the extremes on the political spectrum. The increased bandwidth of the Internet – from blogs to cable news to social media – spew partisan brinkmanship 24 hours a day that has stripped away any goodwill elected officials might ever have generated. Eighty-five percent of the survey respondents did not think that elected officials want to help people; 79 percent did not consider politicians smart or hardworking; nearly 60 percent believed that politicians are dishonest; and fewer than 30 percent thought that candidates and elected leaders stand up for their convictions.
Can the Appeal of Elected Office be Resurrected?
Lawless and Fox provide practical and innovative suggestions for how new technologies, national service programs, and well-strategized public service campaigns could generate political ambition in young people. "If young people saw politics as a vibrant, effective way to engage with and improve their communities and society," say Lawless and Fox, "then more of them would not be turned off by the thought of entering the fray."
Five suggestions are provided in Running from Office that could change young people's attitudes. But it will take money and motivation, combined with politicians serving as better role models, supporting innovative programs, and partnering with entrepreneurs, activists, journalists and teachers to combat the political ambition deficit.
Here's how Lawless and Fox suggest to shift current attitudes:
YouLead Initiative is a national service program with the message that young people are needed to foster new leadership. It would seek to change their impressions of politicians and encourage potential political leadership by identifying high school and college students who have already exhibited leadership success.
Playstation for Politics is a way to engage young people on a platform where they already spend a lot of time: video games. Building video games around becoming a candidate and engaging in campaigns and elections (including financing a campaign, weathering a scandal, and developing a platform to win both a primary and a general election, with all the pitfalls along the way) could be an educational thrill.
Political Ambition – Put That in Your Bong and Smoke It proposes making political engagement a fundamental part of the college application experience. Lawless and Fox adhere to the belief that civic interest should be added to the factors colleges consider in the admissions process. They make clear that college applicants should be aware of major political issues and that college admissions officers should incentivize the importance of following current events and policy debates.
Girls Uninterrupted - Increase College Women's Political Ambition solves two problems. First, it's a program that mentors, equips, and encourages young women to consider running for elected office, which could help close the gender gap in political ambition among adults. College men in the survey indicated they are twice as likely as college women to express interest in running for elected office later in life. Second, by increasing the percentage of women interested in running for office, the program would increase the talent pool of potential candidates more broadly.
The Go Run App would identify all elected offices throughout the country. Users would enter their zip code and learn what elected positions are available in that community, the responsibilities associated with each, and the nuts and bolts involved in running for them. As basic as this information might sound, no central clearinghouse currently exists to provide this fundamental information.
Ultimately, Lawless and Fox paint a political profile of the next generation that serves as a vital wake-up call – one that sounds an alarm about the long-term, deeply embedded damage contemporary politics has wrought on U.S. democracy and its youngest citizens. But the suggestions they provide propose clear ways that we can right the course.