Research
A Look at How Police Respond to Same-Sex Partner Violence Calls in Wake of Cultural Change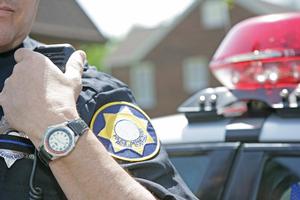 Current demands to #DefundThePolice emphasize the need to review police protocols and responses to citizen service calls. SPA Professor Lynn Addington recently completed work on a grant from the U.S. Department of Justice to explore police response to same-sex intimate partner violence (IPV) and consider the link between  public opinion, policy, and the arrest patterns in these cases.
Using 2016 police data collected by the Federal Bureau of Investigation's Uniform Crime Report (UCR) Program, Addington examined whether changing public acceptance of same-sex marriage might affect IPV arrest patterns. The results of her research appeared in the article, "Police Response to Same-Sex Intimate Partner Violence in the Marriage Equity Era," in a special issue on LBGTQ issues in the journal, Criminal Justice Studies. 
Addington found a significantly increased likelihood of an arrest in states that were early adopters of same-sex marriage, as compared to those that did not change their laws until after the landmark U.S. Supreme Court decision legalizing same-sex marriage in 2015.  
"We often think about marriage equality legislation and court decisions as being very positive. But on the flip side there is also partner violence all across the board. Our policies that provide IPV protection and services to survivors are starting to catch up to these changes in the law and to be inclusive of all couples," Addington said.
Studies have consistently found that same-sex IPV victims are reluctant to report to the police for fear that their claims will not be taken seriously. Mistrust of law enforcement, heightened due to the legacy of criminal laws that targeted the LGBTQ community, reinforces these reporting barriers. "In a previous study, I found that many lesbian, gay, and bisexual IPV victims who called the police indicated that the police were unhelpful, and their overall experience was negative," Addington said.
With this project, Addington reviewed police data to study arrest patterns. These data captured victim demographics, intimate partner relationship, and incident characteristics on arrests from a sample of nearly 300,000 cases from 35 states. To be eligible for the study, incidents had to involve a non-fatal aggravated assault, simple assault, or intimidation, include a single victim and offender in an intimate partner relationship. She compared same-sex and opposite-sex intimate partners and incidents in which either male or female individuals could be the offender.
Addington discovered that the vast majority of these non-fatal IPV incidents involved simple assaults in the home. IPV involving male victims––in both opposite-sex and same-sex couples––had slightly higher arrest rates than incidents with female victims. About one-third of incidents happened in states with a mandatory arrest law; one quarter took place in states that were early adopters of same-sex marriage.  Both characteristics increased the odds of an arrest, the research showed. Arrests rates were higher when the victim was white and when the assault was more severe, Addington discovered. 
"The findings suggest evolving views and support for same-sex relationships might influence IPV arrest," Addington wrote. The hope is that the results of the study will be used to guide culturally sensitive criminal justice programming and improve training of police to support victims of same-sex IPV, she added.