Government & Politics
Sine Institute Hosts Discussion on JFK's 1963 Peace Speech at AU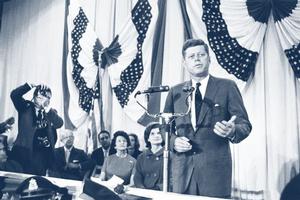 When President John F. Kennedy addressed American University on June 10, 1963, his message extended past the graduates assembled that day. He shared his vision for a path to peace with the American people and leaders around the world. The speech set the stage for a comprehensive nuclear test ban treaty--the greatest foreign policy achievement of Kennedy's administration.
On June 17, the Sine Institute at the AU School of Public Affairs hosted an online panel of experts to discuss that iconic speech and the power of speechwriting. Sine Executive Director Amy Dacey moderated the conversation, which included Terence Szuplat (SPA/BA '95), former deputy director of speechwriting for President Barack Obama; William McGurn, former chief speech writer for George W. Bush; and Andrew Cohen, author of Two Days in June: John F. Kennedy and the 48 Hours that Made History (Signal, 2016).
"It's every speechwriter's dream to have his speech be remembered for decades to come," said Szuplat (SPA/BA '95), who worked as a speechwriting intern at the White House in 1994. "Speeches like this are so important, because what President Kennedy did at AU was more than just announcing a policy or a call for a treaty. He challenged old ways of thinking to get the American people and the world to think differently about an old problem."
In the height of the Cold War, the speech marked a departure in tone, humanizing the Russian people and drawing connections between national security issues and civil rights struggles in the U.S. Kennedy's call to examine attitudes toward peace and freedom at home has direct relevance today. 
"One line jumped out at me: 'Peace and freedom walk together.' In too many of our cities, the peace is not secure because freedom is incomplete," Szuplat said. "Here in 2020, as our country is reeling from the death of George Floyd, President Kennedy's words still speak to us." 
The day after the AU commencement speech, Kennedy addressed the nation from the Oval Office, asking the public, in the same spirit of generosity, to question their personal morals to see black Americans differently. It was during this speech that Kennedy proposed legislation that would eventually become the Civil Rights Act of 1964.
"In two days, in two speeches, JFK is pivoting the two biggest issues of his generation: nuclear arms and civil rights," said Cohen.
McGurn expressed admiration for Kennedy's speechwriter Ted Sorenson, emphasizing the distinct challenge of capturing a president's voice. A great speech must reflect the language of the person giving it, take a risk, and seize a big moment, he said. 
"Speeches really are policy," McGurn continued, recalling the difficulty of speechwriting when the war was not going well for Bush. "The tendency is to blame the messenger, the speechwriter. I remember saying: 'You give me a better war; I'll give you a better speech.' People think words can overcome reality. That's not true."
Every speech is another chapter in American history, and the job of the speechwriter is to be a translator and bridge between the president and the public. "From a democratic standpoint, if you want to understand America, this connects the highest leader in the land with the ordinary citizen," Szuplat said. "As a speechwriter, you get to be the person that connects those two people."
Dacey found relevance and value in the nature of the panel. "The webinar was what Sine does best," she said, "by bringing various perspectives around a topic together. It was exciting to share practitioners' expertise, to showcase incredible AU alumni like Terry, and to give our students and community a unique opportunity."