Achievements
SPA Students, Alums Support Communities During COVID-19 Crisis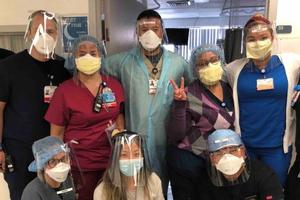 In line with the school mission of excellence in public service, members of the SPA community have stepped up to provide for local and national needs during the response to COVID-19. Whether leveraging their businesses to serve at-risk populations, collaborating with nonprofits, or fundraising or innovating on their own, these current students and alumni are perfect examples of the SPA core values of problem-solving through public engagement.
Mark Bucher (SPA/BA '90), the owner of Medium Rare, a restaurant with three D.C. locations, is using his chain of eateries to provide free quality food to quarantined local seniors during the crisis. He posted an open offer on Twitter, vowing to feed any older locals who fit the bill. Since the initial post, Bucher and resident volunteers have delivered hundreds of meals every afternoon.
"As long as we can get food, we will make it and put it out," Bucher told WJLA. "As long as we can get staff to cook, we will make it and put it out."
SPA senior Anna Mason volunteers with the grassroots organization Front Line Appreciation Group (FLAG) to collect, set up, and charge donated electronic devices to help hospitalized COVID-19 patients communicate with their families. The organization will pick up from donors if feasible or pay for shipping.
Mason learned about the need from a nurse friend in a local hospital.
"I had been hearing stories of people who were dying alone with no contact with their families, which is truly horrible," she said. "I wanted to help make sure that no one else dies without saying goodbye."
SPA senior Santiago Guerrero, along with his brother Patricio and friend Mattias Cena, formed Shield LA, which engineers a low-cost and easily transportable protective face shield for medical workers staffing the pandemic. In a partnership with Jumpstart Labs, Shield LA is raising funds and conducting outreach to grow the effort quickly. Their initial push raised nearly $30,000 and led to the production and distribution of over 7000 shields to date, to hospitals in cities across the U.S. as well as Switzerland and Mexico.
"I saw the great need for PPE and the instinct of people all over to donate money to some useful effort," said Guerrero. "I was happy to help make the connection and get the equipment in the hands of hospitals as quickly as possible."
SPA grad students Madelaine Reis and Alexis Simmons spearheaded #LettersForNewYork, a campaign that uses a Google form to collect letters of encouragement to health care workers and patients in NYC. The letters, printed in sterile conditions and distributed by hospital workers, have reached 100 New York City patients and nurses so far.
"The long-term goal of #LettersForNewYork would be creating a nonprofit to help those who are chronically ill or disabled get the community care they need," Reis says on the website.
SPA alum Erin Price (MPA '17) is a fellow at the D.C.-based Food Recovery Network, a national nonprofit that combats food waste and food insecurity by pairing unused food with agencies in need of donations. The organization has recovered 3.9 million pounds of food since 2011, and donated almost as many meals. As students left their dorms en masse last month, the Food Recovery Network set up moving trucks outside many to collect any unused food.
SPA alumna Becca AbuRakia-Einhorn was featured in the Washington Post for sewing masks in exchange for donations to local nonprofits. She's made over 120 masks, filling requests from as far away as Wisconsin, and raised over $1000 for D.C. nonprofits.
"It feels good to be helpful at this time, and useful," she told the Post.
For updates on these "SPA Allstars," follow #SPAAllStars on Twitter at @AU_SPA.