On Campus
Stacey Abrams Speaks to the SPA Class of 2019 About the Power of Belief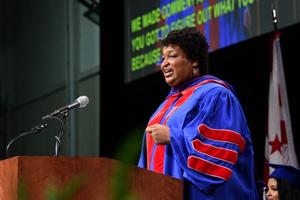 Stacey Abrams, who shattered the glass ceiling with her 2018 run for governor of Georgia, received an honorary Doctor of Laws degree from American University today and spoke at the commencement of the AU School of Public Affairs. 
"When you aim high, when you stretch beyond your easiest conceptions, the temptation to pare back your ambitions will be strong," said Abrams. "But hear me clearly, do not edit your desires: Want what you want, regardless of how big the dream – you may have to get there in stages, but the journey is worth the work."
In 2010, Abrams became the first woman to lead either party in the Georgia General Assembly and the first African American to lead in the state's House of Representatives. She made history again in 2018, becoming the first African American woman gubernatorial nominee for a major party in the history of the United States. In 2019, she became the first African American woman to deliver the response to a State of the Union Address on behalf of a political party. She is the author of "Lead from the Outside." As the founder of Fair Fight Action, Abrams continues to advocate for free and fair elections as well as increasing voter participation.
Also speaking during the commencement were SPA Dean Vicky Wilkins and students Julian Cuevas (SPA/MA '19) and Othniel Harris (SPA/BA '19).
"A career in public service is all about 'the assist.' It's about creating opportunities for other people to excel — about putting the concerns of your neighbors and fellow citizens above your own," said SPA Dean Vicky Wilkins, referencing a video of an elementary school student playing basketball. "To me, this is the definition of service — giving the ball away so that someone else can take a shot. In your time at SPA, I hope you learned to build a playing field where everyone can participate and succeed. I hope you learned to identify a need and address it. I hope you learned to see a wrong — and right it. I hope you learned to create opportunities by putting others' concerns before your own."
Othniel Harris, SPA/BA '19, said he wanted to inspire others to become politically active, as he had been during his time on campus. A political science major from South River, New Jersey, Harris was involved in the Black Student Union and Alpha Phi Alpha fraternity, and was a member of the Student Advisory Council to the President's Council on Diversity & Inclusion.
"Democracy is not just built for the most politically active," said Harris, who will be an organizer for Senator Cory Booker's presidential campaign after graduation. "A democracy is like an airplane, which takes more than just the pilot to get off the ground."
For Julian Cuevas, SPA/MA '19, of Sacramento, California, commencement was his first time on the AU campus after working for two years to receive his online master's in public administration. He was employed full time at the California Department of Education as a legislative policy representative while in graduate school and was recently promoted to director of government affairs with the department.
"In my job, I work with the state legislature, the governor's office, and other agencies. There are so many competing ideas and priorities. Learning how to work within those parameters can be a challenge," said Cuevas. "This master's program helped me take a step back to better analyze a situation and actually apply some of those skills that I learned to enable progress."
"The degrees we received from the School of Public Affairs are not only important, but very timely in helping address a lot of the challenges we are seeing," Cuevas said. "We need to come together and set aside our differences for the common good of the people."
For more information, photos, and the video of the ceremony, visit www.american.edu/events/commencement.