On Campus
From Africa to AU: Associate Professor Steven Taylor Wouldn't Miss Graduation for the World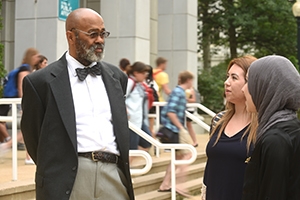 This weekend, many people will travel far distances to witness friends and family as they graduate from AU's School of Public Affairs. Among those who have travelled the farthest to attend commencement is SPA Associate Professor Steven Taylor. He was granted a sabbatical this semester to teach and conduct research in Ghana on a Fulbright Scholarship.
Taylor arrived back in the states to participate in the weekend's festivities. Other than sitting in heavy academic regalia, he says that attending commencement every year has been a highlight.
"It reminds me that I'm appreciated by students when I hear someone shout my name when I walk in," said Taylor.
He also acknowledges his role in the academic journey of his students, "With some students, there is a sense of pride. I played a role in their education and I want to be there for this milestone."
Taylor has been in Ghana since mid-January. This past semester, he taught a class entitled "Politics of Industrialized Nations" at the University of Ghana. While in Africa, he is focusing his research on the reasons why African Americans are repatriating to Ghana.
At AU, Taylor's teaching and research focus on urban politics, the politics of race and ethnicity, civil rights and liberties, and political culture both in the U.S. and West Africa. He is the author of "Desegregation in Boston and Buffalo: The Influence of Local Leaders." Taylor will return to the U.S full-time at the end of May.
Graduation, Taylor noted, is a reminder of just how fast four years goes by. It is a sentiment sure to be shared by many proud parents this weekend as well.