Research
SPA Faculty Member Wins National Award for Research Examining Views on Inequality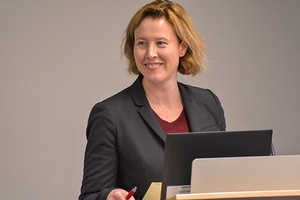 AU School of Public Affairs (SPA) Assistant Professor Elizabeth Suhay's recent paper, "Explanations for Inequality and Political Attitudes among Affluent Americans," has been awarded the American Political Science Association (APSA) Class and Inequality Section's 2018 Best Paper Prize.

Suhay, a public opinion scholar, co-authored the research with Marko Klansja, an assistant professor at Georgetown University, and Gonzalo Rivero, data science lead at Westat in Rockville, Maryland.

"Inequality in the United States is such a growing problem," said Suhay. "Scientists and social scientists are studying it to try to understand why we are experiencing so much inequality and what people can to address it."

Suhay's research focuses on the attitudes of U.S. citizens in the top 3 to 5 percent of income and wealth distribution. It looks at how more affluent people might connect what they believe is causing inequality to what the government should do about it.

With the long cultural tradition of celebrating the individual and individual responsibility, the researchers wondered if those at the top of the economic ladder believe success boils down to choice, or if they took into account circumstances.

"It's especially important to study their attitudes because affluent people have much more influence over our political system than others," said Suhay.

Their analysis is based on data from a national survey from YouGov, an international internet-based market research and data analytics firm, which has an opt-in panel of 1.8 million participants. The researchers drew responses from 900 American adults - half of whom were in the general population and half from a dedicated survey of those with household incomes above $350,000 and more than $2 million in liquid assets.

The data confirmed the researchers' expectations.

"The highly affluent are more likely to individualize inequality or locate inequality in the person, as opposed to in the situation," Suhay said.

The finding was even more consistent among the ultra-wealthy. The respondents in the top one percent were more likely to say that drive and IQ are the products of a person's genes as well as his or her choices.

"Our paper points to the possibility that these beliefs have some self-interested bias behind them," said Suhay. "And that is troubling if people are making these arguments in order to justify the status quo."

The second part of the study examined the relationship between these beliefs and conservatism. The researchers discovered the beliefs were more strongly correlated with policy views among the affluent than others.

Suhay notes that while their findings describe the average rich American, there are a significant number who are liberal and reject these beliefs about the individualization of poverty.

"The affluent are not a monolith," Suhay said. "There is quite a bit of polarization - just as there is among the population in general."