Research
Grant Award Explores Effective Ways to Communicate Science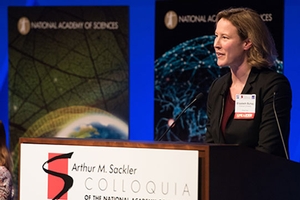 When scientists talk, do policymakers listen?
Elizabeth Suhay, assistant professor at the AU School of Public Affairs, Emily Cloyd at the AAAS Center for Public Engagement with Science and Technology, AAAS Government Relations Associate Director Erin Health, and Erin Nash of Durham University in the U.K., were given nearly $40,000 by the National Academies of Sciences (NAS) and the Rita Allen Foundation to explore that question. Their proposal was one of two selected from nearly 100 submissions in the competition to be funded.
Suhay, who specializes in the study of public opinion, political psychology, and political communication, said researchers have examined scientists' communications to the public but not much attention has been paid to how to convey findings to those in positions of power. Different strategies may be involved when simply trying to describe science to the public as compared to recommending how science might be used by policymakers in crafting legislation.
"We realized there was very little systematic, original research that covered the topic of scientific communication with policymakers," said Suhay. "If we are trying to describe or recommend what we ought to be doing, we need to study the context of communicating science with policymakers as a different group with different goals and needs."
Researchers don't have a good handle on what scientists are doing when they speak with a senator or representative-how that information is received, where scientists fit into their information network to get evidence-based policy to be considered, says Suhay. Suhay and Nash began their project in the fall by forming a volunteer advisory committee composed of policymakers and academics. In February, they will start interviewing several members of the U.S. Congress and their staff to understand their perceptions of what does and doesn't work well when scientists communicate with them.
Next, they will conduct a large web survey of members of the American Association for the Advancement of Science (AAAS), asking about their experiences and goals in speaking with policymakers. Finally, the project will look closely at the kind of information policymakers have received about climate change since the 1980s as a case study in mapping legislators' information networks.
A final report will be presented at NAS in the fall; results from portions of the study may also lead to individual articles, says Suhay. Separately, the researchers plan to develop recommended practices for science communicators engaging with policymakers. SPA's Center for Congressional and Presidential Studies will host an event in the fall to discuss the research and building a culture of evidence-based policymaking.
If science communicators are received well, there should be more solid research used in the policymaking process in the future.
"The public's scientific beliefs have become polarized and politicized. It's a frustrating situation," said Suhay. "I see this project as a way to help and fill a window in the research."
In November, Suhay gave a preview of the project at an NAS conference. A webcast of the event attracted 16,509 views from people around the world.