Government & Politics
What is President Trump Doing to Obama-Era Policy?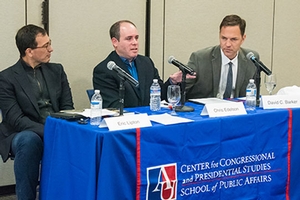 A recent American University School of Public Affairs' Center for Congressional and Presidential Studies event highlighted the many changes in executive norms and federal regulations having an impact across the country.
"There have been failures legislatively, most notably the health care debacle, that was surprising given Republican control of both houses of Congress," said CCPS Director David Barker. "But those failures have masked other significant achievements by this administration through executive actions that have been remarkable and unprecedented in scope."
Eric Lipton, a New York Times journalist, shared articles he and a team of journalists have written this year about what regulatory repeals have meant to various sectors of the economy and everyday Americans. Lipton said that early in the Trump presidency, key adviser Steve Bannon talked about the "deconstruction of the administrative state," and the executive branch began to roll back regulations at a pace unseen since the era of Ronald Reagan.
Reporters have chronicled how lifting the moratorium on coal production in Montana is threatening farmers' water supplies, how changes to Federal Communications Commission rules will allow for greater concentration of broadcast station ownership, and what the failure to implement regulations on toxic chemicals might mean for consumer safety.  
Lipton also outlined the conflict of interest among many in the administration as some former lobbyists and executives have been appointed to lead federal agencies that oversee their industries. 
"Everywhere we looked across the government, we were seeing examples of people who were leaving the sectors as paid representatives and then becoming the regulators. The regulated became the regulators," said Lipton.
SPA Assistant Professor Chris Edelson discussed how a constitutional democracy places limits on presidential power and provides protections for individual rights; however, President Trump has challenged many norms. Edelson highlighted Trump's lack of transparency with his personal business holdings, his inflammatory racial rhetoric, and his threats to the freedom of the press.
"The overall concern is that Trump is effectively saying 'the law doesn't apply to me and my friends. I will shield my friends from prosecutors and myself as well and use the law as a sword to go after people with whom I disagree'," said Edelson. 
Although some think his involvement in the justice system is having an impact, others believe the checks and balances are working. Edelson maintains that it's too early to tell.