On Campus
The Project on Civil Discourse: Finding Truth in a Divided World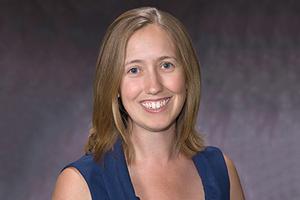 In 2018, the AU School of Public Affairs began piloting a project to help to model what it means to engage in civil dialogue, particularly in today's polarized world. The Project on Civil Discourse is a series of resources to encourage students to have tough conversations, listen to other points of view, and learn from those experiences to promote productive dialogue. Throughout 2018, SPA will feature stories from the perspectives of faculty, students, and staff to highlight the importance of civil discourse.
This first story features Olivia Ivey, associate university librarian at American University, and the way she sees the role of truth in society.
"Finding the truth is essential to civil discourse," says Olivia Ivey, associate university librarian at American University. She believes in helping students become savvy consumers of information because she says that agreeing on basic facts is critical to any meaningful discussion of a problem.
"In our current environment, we are absorbing information whether we need it or not, whether we are looking for it or not. It shows up on our phones, our Twitter feeds, our Facebook feeds," said Ivey. "We have to proactively put ourselves in a critical thinking frame of mind."
This new reality of information overload requires evaluation of material before it is used to inform civic participation, explains Ivey. Information literacy facilitates civil discourse because it serves the goal of getting all the relevant parties on the same page.
"We can have different philosophies that underpin how we want to move forward or how we want to govern, but we need to at least be in some agreement about the issues we are trying to solve, whether that be veterans' services or education or the labor market," said Ivey. "If we can't agree on a set of facts about what those communities need, then we really are just shouting into the wind. We need pursuit of truth to be part of our civil discourse or it's not even possible to begin a conversation."
People need to re-train themselves out of the idea of a "gut check," says Ivey. "If you are going to move forward in a conversation, you need more than 'It feels true.'"
"It's important to have civil discourse on campus because it is a springboard for students," said Ivey. "The habits built here will follow them. This is an opportunity to build a thoughtful citizenry."
A college campus is a microcosm of society, with its range of political views and emotional attachments to hot-button issues. Unlike professionals who can go home to escape their coworkers, college students must coexist in class and in the dorm, which can increase the volatility.
"There is a hunger on campuses to figure out free speech," said Lara Schwartz, director of The Project on Civil Discourse. "SPA has a unique role to play because we are leaders in talking about hot-button issues. This is in our wheelhouse, and it's intertwined with our diversity efforts we are so committed to."
To learn more about The Project on Civil Discourse, visit https://www.american.edu/spa/civildiscourse/