Government & Politics
Up for Debate: Faculty Experts Predict Hot Topics for Democratic Presidential Debates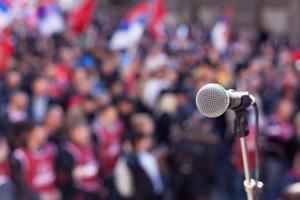 The Democratic presidential primary debates kick off on July 26 and 27. How will the 20 candidates use their time to stand out among the crowd of contenders? We asked some AU School of Public Affairs faculty experts what they think will play out during these early debates. Here's what they shared with us:
On Women
Betsy Fisher Martin, Executive Director, Women & Politics Institute at AU School of Public Affairs
"As the producer of Tim Russert's famous Rick Lazio/Hillary Clinton Senate debate in 2000, I am going to predict that, unlike Mr. Lazio, the male candidates on the stage will remain respectful of the female candidates' personal space and be hypersensitive to any comments or actions that may appear to be bullying. This is the first time we will see more than one female candidate on a presidential debate stage – so it's an historic night, to be sure."
On Democratic Voters
David Barker, Director, Center for Congressional and Presidential Studies
"Four factions of Democrats are tuning in to these debates, looking to find their champion: (1) 'Woke Warriors' (highly educated white seculars) are animated more by social inequality (racial, gender, sexual) than by economic inequality. (2) 'Blue Collars' (white working class) are animated more by economic inequality than by social inequality, (3) 'Twitter Snarks' (white progressive Millennials) are animated by both, and (4) "Nostalgics" (older moderates) are not necessarily animated by either, but loathe/fear President Trump."
On the Border Crisis
Chris Edelson, SPA Assistant Professor
"It is clear that the candidates will speak about the shocking stories coming out about children held in detention centers. These stories are accompanied by the front page photo in the New York Times of a father and his toddler daughter who drowned in the Rio Grande. Will one or more candidates try to link these conscience-shocking reports to a broader narrative about the moral challenge posed by the Trump presidency in a variety of contexts? I expect they will try."
On the Economy
Bradley Hardy, SPA Associate Professor
"The Democratic presidential candidates will position themselves to argue that markets may — if left unchecked — potentially leave middle class families behind. I think candidates will put forth a range of policy ideas to improve economic conditions among the middle class, with a focus on issues such as rising housing costs that outpace household earnings, education debt, and wealth inequality. A challenge is to discuss the persistence of these issues, amid low unemployment."
On Civility
Lara Schwartz, Director, AU Project on Civil Discourse
"At this point, Vice President Biden's pitch to America is about civility. He is making the case that to beat President Trump, Democrats will need to embrace and not antagonize Republicans and Independents – including those who voted for Trump in 2016. If the moderators ask candidates to address whether it's appropriate to label immigrant detention centers "concentration camps," Biden is in the toughest position. He has to connect with a Democratic primary audience outraged about human rights abuses without appearing to brand the opposition as war criminals or Nazis." 
To qualify for the first debate, which will play out over two nights, candidates had to fulfill one of two criteria: either get 65,000 donors to their campaigns, with at least 200 donors in 20 different states, or obtain at least 1 percent in three polls recognized as legitimate by the committee. Because so many of the contenders qualified for the first round of debate, they will be split into two groups across two consecutive nights totaling four hours. Ten candidates were randomly chosen to appear on each night.
Though it's still early in the 2020 campaign, this week's debates serve as a starting gun for the long race ahead. AU School of Public Affairs will continue to report on and from the campaign trail.
For more information, news, and election experts, visit American University's 2020 Election website.