Government & Politics
Wave of Women Elected Shatters What It Looks Like to Serve in Congress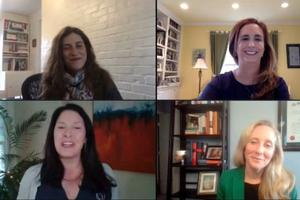 A record-breaking 110 women were elected to Congress in 2018, and while their policy influence is yet to be determined, their presence is already changing perceptions.
"When kids come to visit the Capitol and look down in the gallery, they see me [and other women]. They see people that they could be," said U.S. Rep. Abigail Spanberger (D-VA), at a virtual book talk sponsored by the SPA Women & Politics Institute on April 14. "Yes, we have voices. And, yes, we have great legislation, but the real impact is going to be generational."
The talk featured the newly elected Virginia Congresswoman alongside New York Times reporter Jennifer Steinhauer, author of The Firsts: The Inside Story of the Women Reshaping Congress (published in March by Algonquin Books). The event was moderated by WPI Executive Director Betsy Fischer Martin and Susannah Welford, founder of the nonprofit Running Start, which supports women running for elected office.
Steinhauer's book examines the first year of the 116th Congress, one of the largest and most diverse classes of freshmen, which sent 87 women to the House and 23 to the Senate. The veteran journalist observed some of these key lawmakers, in Washington and their home districts, as they navigated the political landscape and advocated for change.
Spanberger, a former undercover CIA officer who became the first woman elected to her district in Virginia, aligned with others who held common national security backgrounds and goals.
"They seemed to consult on legislation and voted more often together. To me, that was more of an authentic, cohesive squad," Steinhauer said of the national security group, referencing the four women known as "The Squad," led by Alexandria Ocasio-Cortez (D-NY).
Tensions between the progressive and moderate wings of the Democrats in Congress last year anticipated the friction between factions in the 2020 presidential race, said Steinhauer. Congressional leadership struggled to manage conflicts within the party, and to ensure that women could leverage their political power into legislative results.
Amid the disruptions of the 2019 government shutdown and the response to the novel coronavirus, Spanberger has maintained focus on the needs and stories of her constituents.
"There is heartbreak across our community, and I need to hear it and feel it to know what is fueling me," she said. "I don't know if it's gender, but there is an earnestness that exists if you are trying to really understand and empathize with someone."
A mother of three, who beat a two-term incumbent to be the first Democrat elected to her seat in 50 years, Spanberger defied people's expectations, which allowed her to invent her role.
"You've just sort of exploded it all so they can't fill in the puzzle pieces" said Spanberger. "It presented a freedom for me."
Her advice for young women aspiring to public office?
"There is no perfect path to get into a political career," she said. "Be open to the fact that your path might wind and change. When you are ready to run for office, be fearless about it. When they doubt you, that should fuel you to prove them wrong."
"Be fearless in pursuit of what is right and good," she continued. "People will ultimately want to vote for you if they believe you."