On Campus
We Lead: Pathways to Women's Power and Leadership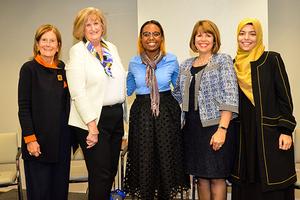 A lot has been written about the pathways and barriers to women's advancement into leadership positions. The recent advancement of women into key leadership roles in business, higher education, and government are seen by many as positive signs of change. How will the change in gender diversity transform organizations and have a positive impact on future generations of women?
To understand more, AU School of Public Affairs recently hosted a panel discussion with women from the government, academic, business, and nonprofit sectors who shared their perspectives on how to inspire and what works to engage young women in the workforce and public service.
"We know if women and men participated in the labor force in equal numbers, global gross domestic product would increase by $28 trillion in the next 10 years," said Stephenie Foster, who moderated the event.
Foster, a founding partner of Smash Strategies in Washington, D.C., framed the conversation with statistics that underscore the valuable role of women.
"We know when women are in office and are involved in the process, peace agreements last longer," said Foster. "There is a phenomenal dividend when women and girls are involved."
Kathleen Matthews, a former journalist and current chair of the Maryland Democratic Party, said women in positions of power can impact news coverage, corporate decisions, and public policy.
"It's important that women's voices being heard," said Matthews. "We all tell stories slightly differently through the lens of our own experience."
Matthews spoke of the need to increase representation of women in elected office, noting that women make up just one-third of the representatives in the Maryland state legislature. "You have to put yourself in the arena," she said to the audience, which included Girl Scouts from the Washington region who were given a tour of campus by SPA Dean Vicky Wilkins prior to the evening event.
Lidia Soto Harmon, CEO of Girl Scouts Nation's Capital, shared her story of growing up as an immigrant in the U.S. and wanting to have a career in which she advocated for others.
"I want to make sure young women — whatever your choices are — that you have the ability to move through them without an impediment," said Harmon, encouraging young women to get out of their comfort zones and try new things.
"Be your authentic self," advised SPA's TaLisa Carter, a postdoctoral fellow who worked as a corrections officer and now conducts research on issues related to the criminal justice system. She told the young women to be leaders in whatever space they find themselves and develop a network of mentors.
Abrar Omeish, a Gold Award Scout alumna and Yale University graduate, emphasized the importance of working hard and for girls to see role models of all backgrounds. "If you can imagine your success, you are able to attain it," said Omeish.