Government & Politics
'Yes She Can' Book Authors Share Their Experience Working in the Obama White House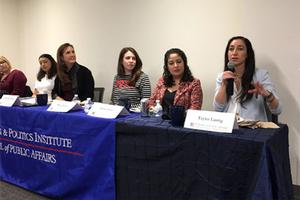 Political memoirs are typically written by people toward the end of their careers. But the 10 young women who served in the Obama White House recently released the book, "Yes She Can," showing how even junior staffers can have influence and inspire others to become public servants.
"We wanted to talk directly to young women coming up after us to say that careers in government are a good way to make a difference," said Molly Dillon, who served as a policy advisor for urban affairs, justice, and opportunity in the Obama administration.
Six of the book's co-authors spoke at an event on campus recently to talk about their New York Times bestselling book. The event was organized by SPA's Women & Politics Institute (WPI) and moderated by WPI's Executive Director, Betsy Fischer Martin.
"What comes across in the book is their dedication to public service," said Fischer Martin about the women from diverse backgrounds who were all in their 20s when they worked in the administration.
They were teens when Barack Obama announced he was running for president. They came of age in the Obama Era. And then they joined his White House. Smart, motivated, ambitious–and ready to change the world.
Jenna Brayton, an author on the book and SPA adjunct professor, spoke about being an early fan of Obama in her home state of Illinois and her lesson of persistence. She relentlessly called the campaign office until she got an interview and showed up covered in Obama buttons, layered T-shirts, and even pants with his image.
"I so desperately wanted to work for him," said Brayton, who was part of the campaign and inaugural committee before landing a job on the digital team at the White House. "There's nothing quite like working for someone you really believe in and seeing it pay off."
After graduating from college, Andrea Flores was eager to take a job in Washington but worked first in her home state of New Mexico. She credits the experience with giving her the background she needed to be on the immigration and rural affairs team in the White House — and to be resilient when policy setbacks happened.
"Sometimes you show up, work really hard, and change doesn't come, but you continue to support the movement as you can," said Flores.
Eleanor Celeste said she grew up in a political family in Ohio where public service was "cool," and, for her, it was just a matter of how she would serve.
"My family embedded in me that serving others was a noble thing to do and was your responsibility," said Celeste, who advised the administration on science policy. "When you read something in the news or hear about a policy change and it brings tears to your eyes, we want you to know you can make the change too."
Ultimately, the co-authors hope attracting more women into entry-level staff positions may give them the confidence to run for elected office. They also emphasized the value of service at the local and state level.
"Government happens in so many places — not just D.C.," said Dillon. "Your home state needs you. Every state senator and representative needs staff. Find someone new and young who needs good, smart people and just show up."
"Yes She Can" is a look at the Obama administration through the eyes of successful, and completely relatable, young women. Full of wisdom they wish they could impart to their younger selves and a message about the need for more women in public service, these recollections are about stepping out into the spotlight and up to the challenge – something everyone has in them to do.